120 Reasons I haven't been blogging

ROSE Blog: Rikki's Open Source Exchange
Oct 04, 2010 GMT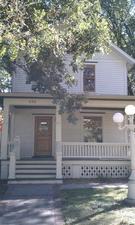 We've been even busier than usual in the Linux New Media USA offices lately. In addition to launching two new magazines this year (Admin Magazine and another publication in the works), we've been growing. We added a new full-time production editor last Friday. Many readers might recognize Lori White's name in our upcoming mastheads because her name also graced the masthead of Sys Admin magazine for many years as the production and art director.
Last Friday, Lori's first day on the job, we also moved into a new, much larger office. We were busting at the seams in our old office, but Joe Casad (our editor in chief) and I did get a little nostalgic as we left that building. We first opened that office 3 1/2 years ago; it was a perfect fit for Joe and me, but got cozier and cozier as we added editors to our team. As I packed up my desk last week, I ran across a few of the event badges I've collected over my four years here, and I found a little sticky note on which I'd written our first official Linux New Media USA phone number as a reminder to myself. We've come a long way, Tux.
While we were busily hiring, welcoming, packing, and moving, we also took a moment to start celebrating our 10-year anniversary. Issue 120 arrived in our office last week, fresh from the printer. Our anniversary issue is hitting newsstands and mailboxes in Europe now, and will arrive in North America later this month. Inside that issue readers will find our complete magazine archive on DVD! I'm enjoying browsing through those old issues at my leisure, and I hope you will, too. Everyone here in the North American office sends a big thanks out to our colleagues in Europe, who helped us put together this anniversary issue and DVD.
We all also thank all the writers, editors, and contributors who helped create these first 120 issues of Linux Magazine and Linux Pro Magazine. And, of course, we send a HUGE thanks out to our advertisers and readers for supporting our magazines and websites. We're excited to see -- and report -- what happens the next 10 years in Linux and open source.
comments powered by

Disqus

Issue 268/2023
Buy this issue as a PDF
Digital Issue: Price $12.99

(incl. VAT)