Social and Private with Friendica
Developing for a Post-Facebook World
By
Be social and keep in touch while maintaining your privacy with Friendica, a network that centralizes social media.
The popularity of social media has created two main issues for users. First, users often want to post the same material to more than one site. Second, many users are increasingly concerned about the implications of private data being controlled by a corporation. Among the efforts to provide services that address these issues, by far the most promising is Friendica, a functional site that is still very much a work in progress.
The Friendica project is coordinated by Mike Macgirvin, a veteran member of the open source community and a computer engineer who has developed Internet technologies for such corporations as America Online, Sun Microsystems, and Netscape Communications.
During the lead-in to Quit Facebook Day in May 2010, Macgirvin became concerned "about the large scale centralization of private data in the hands of a single American corporation, having watched companies fail during the dot-com crash and watching their customer databases sold for pennies on the dollar."
Macgirvin quit Facebook a couple of weeks before Quit Facebook Day but was unable to find a replacement site that addressed all his concerns. Some alternatives, like Orkut and Twitter, seemed to him no more trustworthy than Facebook. Others like Appleseed were hard to use and had trouble scaling, or, like StatusNet, "had no privacy." Still others, like DiSo and OneSocialWeb were developing too slowly, or, like Diaspora* were being developed privately. As a result, Macgirvin began Friendica.
"If people were to leave Facebook and seek privacy-respecting alternatives, there should be a place for them to go," he says.
Just over two years later, Friendica has more than 50 developers, of whom 10 to 20 could be described as active, and a half dozen people working on publicity. Because Friendica encourages the use of distributed servers to avoid centralized control, how widely it is used is impossible to say, but Macgirvin estimates that Friendica currently has several hundred servers worldwide and that about 20,000 have tried the software, with several thousand using it each day.
He adds that the number of users is relatively unimportant because Friendica acts as a portal for many other sites. For example, Macgirvin says, "I currently interact daily with friends on Facebook, Twitter, Diaspora*, Identi.ca, and Friendica – all from within Friendica. I also have friends in my stream who only have email addresses and RSS feeds."
Taking Friendica for a Test Drive
To try Friendica as user, choose one of the servers listed on the project site and create an account, making sure that your choice is currently accepting new accounts. The list also specifies what plugins each server is using, as well as who oversees it, in case you want to research to what and whom you are trusting your personal data. Basic information about setting up a server is also available.
If you choose, you can begin by reading about Friendica's privacy policy by clicking the cog icon in the upper right corner of the screen (Figure 1). Once you decide to use Friendica, you can set up your feed by using the Connect Services in the right-hand column of your Home page. Currently, you can add such sites as Facebook, Twitter, Tumblr, WordPress, LiveJournal, and Dreamwidth to your site, as well as direct email addresses, with the exact choices varying depending on your server. A few popular sites – notably Google+ – are not yet supported but should be soon.
Most of the rest of Friendica should be quickly recognizable by anyone who has ever used a social network site. However, as you explore, you will start to find enhancements that range from the minor to the innovative.
The least of Friendica's appeal is the single feed from other sites, and the separate pages for listing users that include basic profile information. You can also choose the theme for your account, fine-tuning as though you were customizing windows on your desktop, or set a specialized page type, such as a private forum or a celebrity account that automatically approves all friend requests as fans. Getting even more specialized, you can activate the Not Safe for Work plugin or set the number of characters of each message to displace.
However, if you are the type of user who is likely to be drawn to Friendica, what you will probably appreciate most are the security features. Like many other social networking sites, Friendica lets you control what information is available to whom – the main difference being that it has far more options – as well as what notifications you receive (Figure 2).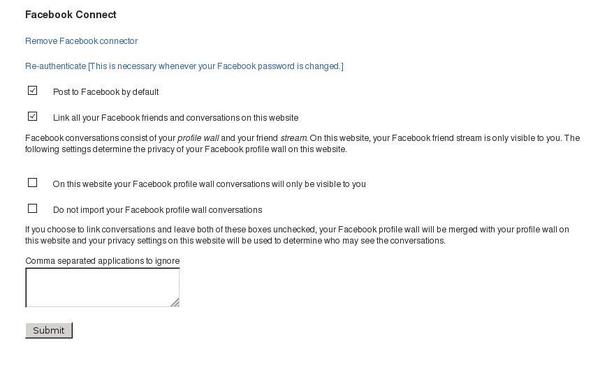 Additionally, Friendica includes several features designed to reduce spam, such as a limit on the number of private messages or friendship requests each day. Perhaps most importantly, if you are hard core about controlling your data, you can go so far as to arrange to have your personal information stored remotely in the cloud of your choice.
Almost the only major feature that Friendica lacks is games. Partly, this lack is deliberate: Macgirvin says that Friendica is "intentionally avoiding anything that looks like Mafia Wars and FarmVille." However, Friendica does have the plugin framework, should anyone care to develop them.
Still, even without games, all the options can be overwhelming the first time you log in in to Friendica. For that reason, you might want to explore the options a few at the time. Once you are set up to your liking, though, you will probably conclude that Friendica not only accomplishes the goals of centralizing social media and preserving privacy, but it is also an open source supporter's dream of customization.
In fact, Macgirvin sees Friendica as the next step in the progression of social media. Just as email began with competing protocols and format and gradually settled on common standards, so he sees Friendica as a move toward "the same kind of protocol consolidation in social networking." Macgirvin adds,
It shouldn't matter if your friends use Facebook or Google+ or Friendica or Diaspora or anything else. They're all just pieces of software you use to access your social communications. We want to break down the walled gardens and show them for what they are: corporate walls that were built for business goals and actually prevent you from communicating with friends, unless you become a member of every different service.
In the end, you're just passing messages back and forth and looking at some web pages. The only difference from email is the web pages. Otherwise, we're just passing messages back and forth. You shouldn't have to give up all your rights to privacy in order to do this.
Growing Pains
Although Friendica is maturing rapidly, the project still faces several obstacles. To start, Macgirvin admits that, "Our growth rates have been hurt by our lack of good visual designers. Most of us are code geeks that would rather something worked well than worry about what font to use. There haven't been a lot of complaints about the software functionality or feature set, but we have had complaints about our lack of 'shiny'."
Similarly, connecting to multiple sites brings its own problems. Each social media has its own privacy policies, most of which must simply be accepted as incompatible with the high degree of privacy for which Friendica aims. The differences in protocols and formats is just as serious a problem – all the more so because most sites do not use a free software development model. For example, Macgirvin says that he spent "almost six months" reverse-engineering Diaspora*'s communication protocol. Other protocols, like those for Google+, LinkedIn, and MySpace require someone with the knowledge necessary to produce them.
However, the largest obstacle to Friendica's development is funding. Macgirvin considered offering a paid edition of Friendica, but maintaining two codebases proved too difficult. Because project members are "opposed in principle to ad-driven funding" – which could lead to privacy intrusions – for now, the project is currently surviving on donations. According to Macgirvin, these donations barely cover the cost of the project servers; no one is being paid for developing Friendica.
In the long term, Friendica will probably provide plugins that will help those who set up servers to fund themselves, but how the project itself will be funded remains undecided.
"Nobody yet knows what a post-Facebook world will look like," Macgirvin says. "I'm trying to present one vision, and there are a lot of brilliant people working on alternate visions. Hopefully there will be several projects on the free web that federate with each other, and people can just choose whatever software they wish to use and not worry about losing their friends. That's the way it should be."
Meanwhile, Macgirvin is pleased about helping to bring the post-Facebook world closer in the last couple of years. "If somebody leaves Facebook today," he says, "there are places for them to go. I'm proud to have played a part in making this choice available."
comments powered by

Disqus

Issue 266/2023
Buy this issue as a PDF
Digital Issue: Price $12.99

(incl. VAT)