Amarok 2.2.2 with New Features
Jan 12, 2010
The Amarok project has made version 2.2.2 of its KDE music player available for download. The new version includes a couple of new features next to many detail changes.
Among the important changes to the current release, which the developers named after track 13 ("Maya Gold") of Mike Oldfield's Tubular Bells II, are custom labels, the moodbar and the search for filenames in case metadata is not available. Custom labels and moodbars are functions that couldn't initially find their way in the conversion from Amarok 1.4 to 2.0 but are now in 2.2.2. Details on the rather complicated setup for moodbar support are on its own wiki page.
Improvements include resizing auto-sized playlist items in the playlist editor and numerous bugfixes for Internet services. Amarok no longer tries to detect character sets for tags, which previously caused numerous errors. The complete list of bugfixes since beta 1 is on the Amarok release page.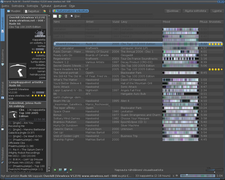 Amarok 2.2.2 is available for most distros as binary packages, while the source code is on KDE project FTP servers. Next to Linux versions are a Windows port and a version for Mac OS X. The project continually seeks volunteers to build packages and improve Amarok's Mac integration.
comments powered by

Disqus

Issue 272/2023
Buy this issue as a PDF
Digital Issue: Price $12.99

(incl. VAT)