CeBIT 2009: Mozilla Shows Off Next Generation Web
Mar 06, 2009
The Mozilla Foundation features a booth in the Open Source Project lounge in Hall 6 at this year's CeBIT.
"Just about everyone visiting our booth uses Firefox," said Tim Riley of Mozilla. The Firefox pins and other goodies that the conference team distributed were hotly sought after.
Riley and his colleagues presented at their booth the features of the upcoming Firefox version 3.1 that should be on the market in a couple of months. Notable among them are the enhancements in HTML 5 such as video tags that allow embedded Ogg and Theora videos to be played without a plug-in. As Riley says, "This way you get everything with the Open Source browser and don't need to rely on Adobe or others." Other enhancements involve Scalable Vector Graphics (SVG) providing object drag-and-drops, as well as canvas libraries for scriptable bitmap image rendering.
Both canvas bitmaps and SVG are part of the HTML 5 specification. Chris Hofmann, one of the first Mozilla Foundation employees, added, "SVG meanwhile is available in all distributed browsers, something Web developers can depend upon." He reported that new Web technologies will take some time to be adopted: "XMLHttpRequest, for example, has been around since 2001, but only in the last few years has it gained acceptance." One reason, he explained, was Microsoft's Internet Explorer whose version 6 remained stagnant between 2001 and 2004. The release of Mozilla 1.0, on the other hand, brought in a breath of fresh air: "Life came back into the Web," according to Hoffmann, who is currently responsible for special projects at Mozilla, a multifunctional role from testing to representing the project at conferences. He is convinced that many of the "features of the next generation" of Firefox 3.1 will start to infuse the Web.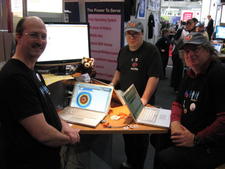 According to Riley, Mozilla's director of quality assurance, the browser project puts a great value on testing: "Everyone checking code into Firefox's version control has to deliver the matching tests." In the spirit of continuous integration, an automatic build system constantly pumps out current versions of the code, resulting in around 100,000 test cases. The full-time 17-member QA team is supplemented with about 10,000 community testers that install nightly builds every morning. Not to speak of millions of beta testers.
Next to HTML and JavaScript, the tests also involve C++, says Riley, and his team uses a whole arsenal of Open Source tools such as Mochikit, Buildbot, Mozmill and Selenium.
The two Americans manning the Mozilla booth along with their German colleague Carsten Book are excited about the active interest among visitors and the exchange with other projects. "Also, there are many more inquiries about Thunderbird here than in the U.S.," remarked Hofmann, "Apparently e-mail isn't so much dominated here by Microsoft." The Mozilla team is located in the Open Source Lounge in Hall 6 of CeBIT.
comments powered by

Disqus
---
Support Our Work
Linux Magazine content is made possible with support from readers like you. Please consider contributing when you've found an article to be beneficial.
---