Conceptual 1.0 with GUI and Eclipse Plug-in
Jan 16, 2009
The Conceptual domain-specific language generates programs that measure the performance and test the correctness of networks and their protocol layers. The newest version 1.0 of the product provides a graphical user interface (GUI) to facilitate generating these programs.
The coNCePTuaL developers designate their language (where the capital letters stand for Network Correctness and Performance Testing Language) as "executable pseudocode" that contains useful primitives for network programming. The resulting programs are often shorter and easier to write than in C, for example. The compiler creates UNIX executables and can thus use various backends, such as C with Message Passing Interface (MPI) or Unix-domain datagram sockets. The Conceptual programs return considerable system info and can generate diagrams.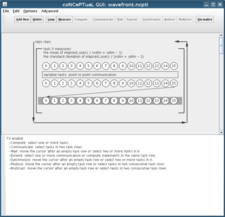 Version 1.0 provides a JVM-based GUI for graphical program creation. The project webpage provides a trial GUI as an applet or Java Web Start application. A Conceptual plug-in for the Eclipse developer environment for writing and executing network tests is also available.
The software was developed by Los Alamos National Security, a contractor to the U.S. Department of Energy, and is available under a modified BSD-style license. The project's SourceForge page includes downloads of Conceptual, its Java GUI and Eclipse plug-in as sources and binaries.
comments powered by

Disqus

Issue 253/2021
Buy this issue as a PDF
Digital Issue: Price $12.99

(incl. VAT)