Netbook Distro Leeenux Linux 2.0 with lots of Applications
Feb 02, 2010
Leeenux Linux is a netbook distribution for the EeePC 701G, and is now available as version 2.0, complete with many new applications.
The Linux distribution focuses on ease of use, even on the 8.9 inch display of the EeePC 701G. Leeenux is also perfect for use on other Netbooks, and uses Ubuntu Netbook Remix and Easy Peasy. The distribution contains only free software.
Version 2.0 comes with an assortment of changes and revisions. In terms of internet, the program Evolution in addition to Firefox 3.7 have replaced Mozilla Thunderbird. The accessories have been graced with the Gnome utilities, and the Gens Sega-Emulator is new under the category of games. Open Office is also among the bunch, as well as Abiword, Gnumeric, the calender Sunbird, and an E-Book reader.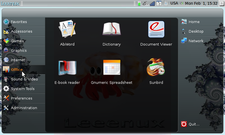 The installed system requires less space, with 1.2 GB. Applications based on Mono, Java, or Qt are discouraged by the Leeenux producers, as they have used purely C++ and Gnome applications.
Leeenux 2.0 is already for download on the project website. Leeenux 2.0 can also be written to USB media with the help of UNetBootIn.
comments powered by

Disqus

Issue 272/2023
Buy this issue as a PDF
Digital Issue: Price $12.99

(incl. VAT)