Upstart Improved Documentation and New Features for Ubuntu Natty Release
Mar 25, 2011
"Jobs and Events are the primary Upstart concepts," writes James Hunt Ubuntu Upstart maintainer at Canonical. "The version of Upstart provided with Ubuntu Natty provides a new "initctl" command "show-config" which when coupled with a new tool "initctl2dot" allows these interactions to be understood visually."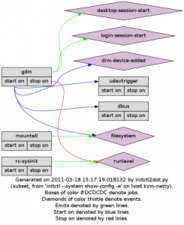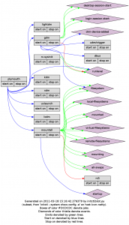 In this post today, Hunt explains the new "initctl show-config" command as well as the "initctl2dot" command and show in a series of visualization graphs how the typical Ubuntu system starts.
Hunt uses his blog to explain to users what Upstart really means and highlights a few new commands. In his series of posts on Upstart Hunt shows that new with the Ubuntu Natty cycle is a focus on documenting the mysteries of Upstart.
For users who want to know more about Upstart, how it works, and see the full documentation can start with Hunt's blog post.
comments powered by

Disqus

Issue 272/2023
Buy this issue as a PDF
Digital Issue: Price $12.99

(incl. VAT)