Veusz 1.5 Plotter Can Also Do EMF
Sep 30, 2009
Veusz, a free plotting package for scientific data, is now available in version 1.5. Among the new features is support for Microsoft's EMF graphics format.
The WMF successor Enhanced Metafile (EMF) allows PostScript and PDF output. For this EMF edition, however, the Veusz program (short for Velvet Ember Under Sky Zenith) requires snapshot versions of the Pyemf and PyQt libraries for its Python program.
Changes to 1.5 also include character encodings in data imports and custom delimiters support for comma-separated value (CSV) data. Stylesheet handling was also reworked, including the introduction of a default stylesheet for all new documents. The release notes provide further details.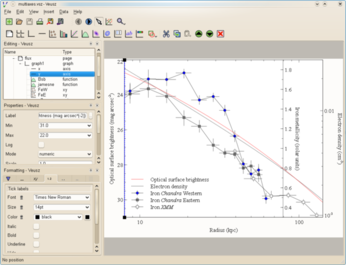 A gallery of examples on the Veusz webpage shows what the package can do. Both a GUI and CLI are available. Python savvy users can also run Veusz through their own scripts.
Veusz is under GPL and a source code tarball is available for download. The same directory also includes binaries for Linux, Windows and Mac OS X.
comments powered by

Disqus

Issue 240/2020
Buy this issue as a PDF
Digital Issue: Price $12.99

(incl. VAT)