Sparkling gems and new releases from the world of Free and Open Source Software
Chess Engine
Stockfish 7
We love playing chess, but it's a difficult game to master. The best way to improve is obviously to play, and computer chess has been a big part of this process. We've been able to play computer-generated chess for decades, from Battle Chess on the Amiga, to Chessmaster on a Gameboy, to DroidFish Chess on Android. DroidFish is brilliant because we love the way it plays chess. Despite our lack of ability, it's always fun and seldom like playing against a computer, which is perhaps the most important thing when it comes to human versus computer outside of Deep Blue versus Garry Kasparov. DroidFish is open source, which is awesome, but so too is the chess engine it uses, called "Stockfish." Chess engines have become interchangeable, with the GUI being like your choice of Linux desktop and the engine being your choice of kernel. Stockfish is rare in the serious world of chess because it plays a brilliant game, and you can play with the source code.
Because Stockfish is only the engine, you can't simply install and run it and expect to play chess. It will install and run, but it's now waiting for a client to communicate with it over the UCI – the universal chess interface. Unfortunately, there aren't that many to choose between for Linux, and many GUIs have been neglected over the last few years. For now, we'd recommend Knights, which detects a running Stockfish and works with other engines, too. From a chess rating perspective, Stockfish 7 is very good, although we're nowhere near good enough at chess to tell. It certainly wins competitions and is widely respected. We've found that it scales brilliantly, depending on your ability, and plays a very interesting game that isn't the usual train of logic and memory.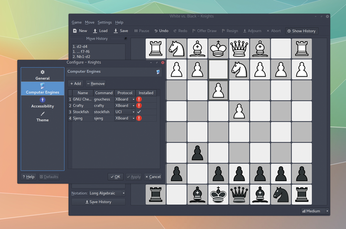 comments powered by

Disqus
---
Support Our Work
Linux Magazine content is made possible with support from readers like you. Please consider contributing when you've found an article to be beneficial.
---