The sysadmin's daily grind: Brewing helpers
Free as in Beer
Columnist Charly looked into so many mash tubs during brewery tours that he wanted to try his own home brew. He did a little research and found some open source projects that could help.
Everything a student of the fine art of brewing needs is likely already there in the kitchen; if not, you can get it for very little money at your local hardware store – expensive special equipment is not necessary. All you need now is a recipe: For my first experiments in my legal drug laboratory, I resorted to a ready packaged set, in which I found brewing malt, hops, and yeast in the right proportions. I only had to home brew, and I did so without automation, which is otherwise my hobby.
I thus created the mash by hand, filtered, poured in some more water, boiled the hops, then cooled, and decanted the results into a fermentation tank in the hope that the yeast would do its magic – all of this took around four and a half hours. The wort – this is the official term for the proto-beer – now needs a good week before I can bottle it. I used the time to search for open source projects that could assist me in brewing.
I started totally from scratch, that is, with the recipe and was totally amazed to discover that there's a kind of standard even for this: Beer XML [1], a description language for exchanging brewing recipes in a standardized format. Today almost every brewing software relies on Beer XML.
The quest for subtleties of home brew artistry inevitably take you to Beersmith [2]. The proprietary software is subject to a charge after a trial period, and it runs on Linux machines, in addition to Windows and Mac OS. The manufacturer supports Ubuntu, but the program also runs on many other distributions.
Beersmith relies on its database containing a five-digit number of brewing recipes, but the various calculators are even more amazing. Imagine you are putting together your own recipe: Beersmith calculates the required proportions on the basis of your ingredients and other parameters and forecasts the resulting alcohol content, bitterness, quantity of carbonic acid, and much more.
Free as in Beer
There is also an open source software tool that does something similar. Brewtarget [3] is the leader of the pack here, available in Deb and RPM packages and for Windows and Mac OS for portability. Of course, Brewtarget imports and exports Beer XML and predicts many parameters of the finished beer based on the ingredients, much like Beersmith. The project is funded by donations and the sale of T-shirts.
The process of brewing almost cries out for automation. During mashing, I had to keep the mash at a temperature between 65 and 69 degrees Celsius for one hour (Figure 1). Even though I have an infinitely variable gas stove, that demanded my constant attention. Automation technology is urgently needed here. From a sober point of view, it thus came as little surprise that solutions typically relying on an Arduino microcontroller or Raspberry Pi can be used as a control unit. The Craftbeer PI [4] project is just one example among many.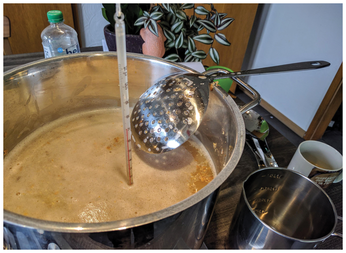 What did I learn by keeping away from the liquor store? Brewing beer is something for people with patience who are not afraid to stand in front of the stove for hours waiting for a four-liter hop smoothie to develop. Will I do it again? Definitely. And, I'll let you know all about it.
comments powered by

Disqus
---
Support Our Work
Linux Magazine content is made possible with support from readers like you. Please consider contributing when you've found an article to be beneficial.
---