Comparing OpenOffice and LibreOffice
Calc
When you look at the spreadsheet tool in the two office bundles, everything seems to be the same. Despite this, the projects have worked diligently on this feature and improved compatibility. Like Writer, Calc can now embed fonts, and LibreOffice Calc now lets you automatically recalculate selected cells (Figure 7).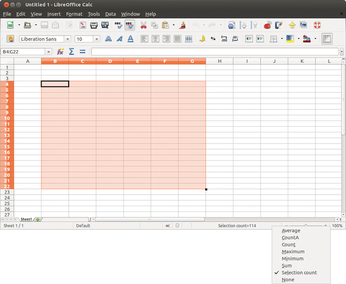 Special Features
If you want to beautify LibreOffice, the suite now gives you the option of installing Firefox themes. To do so, open the LibreOffice settings via Tools | Options. Under LibreOffice | Personalization, select Own Theme, then follow the instructions in the dialog to adapt the interface to your own needs.
Compared with OpenOffice, LibreOffice has improved the selection of templates. Although the templates in OpenOffice still emanate the charm of Windows XP, the LibreOffice templates are presented in clear-cut, topically organized tabs (documents, spreadsheets, presentations, and drawings). You can create new documents directly from the templates, and you can edit and manage existing templates. Although OpenOffice also lets you do this, the dialog provided for this purpose is not very helpful.
Performance
In terms of resource requirements, the two packages do not differ greatly. As Table 1 shows, the load times of the applications are comparable. Only in terms of memory requirements are the LibreOffice tools more frugal than their OpenOffice counterparts. These measurements were made on Ubuntu 13.04; the lab computer was a desktop PC with a dual-core processor and 4GB of RAM.
OpenOffice

LibreOffice

Startup Time (seconds)

Writer

4.7

4.9

Calc

3.2

3.1

Draw

3.5

2.9

Memory Requirement (MB)

Writer

26.6

23.5

Calc

32.0

25.2

Draw

39.5

32.0

Impress

44.2

32.3
comments powered by

Disqus
Visit Our Shop
Direct Download
Read full article as PDF: