The Linux Beer Hike in Luxembourg
Tux Deluxe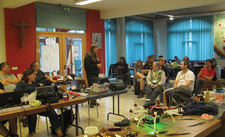 Wiltz is located in the heart of the Ardennes Forest. The small city turned out to be an ideal location for the LBW. It offered a good hall with plenty of room for workshops and talks, the National Museum of the Art of Brewing, and plenty of hiking trails.
From August 16 to 23, 2015, about 40 Linux enthusiasts, families, friends, and dogs from various countries all over the world met up in Wiltz, Luxembourg, for the 17th annual Linux Beer Hike (aka Linux Bier Wanderung, or LBW [1]). Although one of the organizers gave us a fair warning in advance ("Seriously, Luxembourg? It's all uphill!"), a small group decided to cycle there: some via Germany on mountain bikes and others via Belgium on small folding bikes. The weather gods obviously decided to make our lives difficult and dumped quite a bit of rain the first evening – on us, the luggage, and the tents – something that can only be cured by a warm welcome party.
After we set up the hall and got the Internet connection and the beer tap running, it was time for the famous "welcome hike." Although the countryside was beautiful and the company good, as always, the hike itself was a bit disappointing – no first-aid kits, duct tape, or strange vehicles to rescue stranded geeks were involved this year.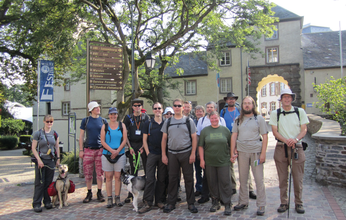 Lego and Drones
This LBW had the best mix of technical workshops, lectures, culture, and hiking we've seen in a long time. There were presentations on WiFi Access Points and our own LBW router at the hall, the history of computing, and the latest anti-spam techniques. We also learned something about the X-Carve [2], an Arduino-controlled CNC router, and unmanned aircraft systems (UAS). Because LBW took place in a populated area, we didn't actually fly the drone, but we learned about the control software, regulations, and the dos and don'ts.
One of my favorite presentations was the talk on computer vision. A long-time LBW member brought a car full of Lego pieces just to show us a pet project he had been working on over the past few months. He's been using Lego Mindstorms to build a brick-sorting robot that includes the use of the OpenCV library [3] for computer vision.
I Want to Ride My Bicycle!
Talks about Fun with Maps and how to go on microadventures with a hiking backpack that weighs less than 5 kg (11 lb) opened up new possibilities for the upcoming hikes, leading us to Esch-sur-Sûre and the villages of Kautenbach and Goebelsmühle. Another day trip saw several geeks on bikes cycling along a disused railway line from Wiltz to Bastogne, Belgium. On the way back, some of us decided to go on a bike adventure and experience the hilly side of life.
LBW is in some respects like a family gathering with some great traditions. One of them is the international potluck, in which people bring or prepare food or drinks that are representative of their home countries. Another tradition is an evening with take-away pizza and the famous LBW pub quiz. The Quiz Mistress (who is always right) and her partner put together ridiculous questions on coding, recordable media, and computer science history.
Again, it was a fantastic week – kudos to the organizers and the attendees and to everyone who gave a talk, led a workshop, or helped with the hike and cycle trips. I'm looking forward to LBW 2016!
LBW is a week-long event that takes place in a different European country each summer, drawing together Open Source and Free Software enthusiasts and friends from more than a dozen different countries. It is an entirely volunteer-run event, funded from a combination of donations among the attendees toward the cost of the hall, Internet access, and other expenses.
comments powered by

Disqus
Visit Our Shop
Direct Download
Read full article as PDF: