Self-organization with Getting Things Gnome
To-Do List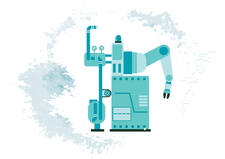 Getting Things Gnome helps with getting things done. Users can enter outstanding tasks and assign keywords and completion dates to their task lists in the foreground.
Getting Things Done (GTD) [1] is a self-organization method developed by David Allen. The GTD approach is based on the theory that trying to maintain a complex task list in your head takes a toll on concentration. The idea is to move task tracking out of the mind and put it in the hands of a trusted external system. The system tracks the tasks so the user can focus on solving and completing the problems.
According to the GTD approach, everything you deal with – be it an article you are interested in, the tax return you need to submit, or a birthday party you are planning – passes through the GTD system and is processed according to specific criteria that help you stay organized.
The system works both with physical objects (e.g., a pen and paper, an inbox that is a real box, and a physical filing system) and with digital objects. Various applications let you implement the GTD system. One handy and free program that helps with GTD is Getting Things Gnome (GTG).
Getting Things Done
The first step is to collect all the documents that represent your various responsibilities. These documents might consist of letters, newspaper clippings, articles, photographs, and handwritten notes, as well as digital items such as email messages or even notes in a digital notebook. You work through the items that require action and complete them according to predefined criteria. The basic rule is: Anything that you have taken from the inbox must not be put back, but must be assigned to a suitable place in the system.
Select the items one by one. The first question for each item is: Throw it away, archive it, save it for later, or complete it? You can throw away a mail message that doesn't interest you. You can archive a newspaper article that you have read but want to keep. The archive can also include things you might want to do later but don't have time for now, such as a description of a nearby yoga class. It is important to have a neat and well-maintained archive system in which you can easily find whatever you store.
Some of the tasks that you won't archive or throw away are easier to do immediately, without cluttering up the system. As a rule of thumb: Do things that take less than two minutes immediately; reserve the rest for later completion.
After separating out the things you will throw away, archive, or do immediately, you get down to something resembling a to-do list with items that require intermittent or ongoing attention. GTG is a convenient, simple tool for tracking tasks and maintaining that to-do list (see the "Installation" box). You can quickly record the task, the start date, the desired completion date, and any sub-tasks that might be required as part of the process. GTG also lets you tag tasks for easy searching by category and record notes describing the state of the task.
Installation of the current version, GTG v0.3.1, is incredibly simple. On the project website [2], you will find both source and binary packages for various Linux systems. You can also look for GTG in your Linux distro's package repository. On Ubuntu, you can install GTG with:
sudo apt-get install gtg
Depending on the package and distro, the setup program might place a launcher in your Start menu. Otherwise, you can start GTG with the gtg shell command in a terminal. If you want to start the program automatically upon login, go to Edit | Preferences and check Start getting things GNOME! on every login.
Creating Tasks
GTG focuses on the tasks, which the program displays in the main window. You can create a new task by clicking on the New Task button or using the keyboard shortcut Ctrl+N. A new dialog appears. In this example, I want to save the yoga class offer for a later date. In the first line of the new dialog, the title of the task, Yoga Class, appears in a larger, underlined font followed by a task description, Penguin Yoga, penguin-yoga@example.com.
To make it easier to find tasks, you can assign tags, which consist of an @ sign, followed by the keyword. In our example, you could assign the following tags: @maybe/sometime @leisure @yoga. The tags are highlighted making them immediately stand out in the text (Figure 1).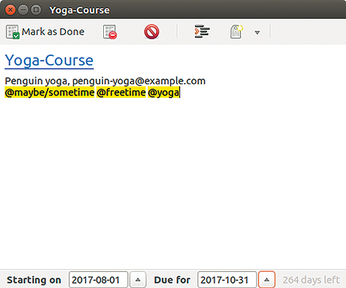 Finally, you will need to define a start and a due date. For the yoga course, you might not have time until August, and the offer is only good until October 31. There are two fields available at the bottom of the dialog: You can enter the data or select from a calendar. If there is no specific due date, just choose sometime. When you close the dialog, the new task will appear in the main window.
Using View | Tags sidebar or the F9 key, you can now open a sidebar in which all the tags you have assigned are displayed. Right-clicking on a keyword opens a dialog, in which you can change the color the program uses to highlight a keyword for a task. Additionally, you can assign an icon to the keyword; this icon then appears in the main window next to the task title. A search function is available in the sidebar.
Wait
You can also enter tasks delegated to others in GTG. Tracking delegation helps you keep an overview of what you assigned, for when, and to whom, and it can also remind you that completion is overdue.
For instance, you could forward a letter from the IRS, reminding you that you need to complete your income tax return, to your tax consultant. At the same time, you would use Ctrl+N to create a new task. Give the task a new title, such as Income Tax Return: Reminder from Internal Revenue Service forwarded to tax consultant February 1, 2017. Meaningful tags would be: @wait @income tax.
Your tax consultant promised to have your income tax return ready by April 1, so that sufficient time remains for you to check the results from the consultant, sign the forms, and turn in the return to the IRS by April 18. You enter this data as the start date and completion date of the new task.
comments powered by

Disqus
---
Support Our Work
Linux Magazine content is made possible with support from readers like you. Please consider contributing when you've found an article to be beneficial.
---