FOSSPicks
BEAST 0.11
Even though this is a shiny new release and the first for over 12 months, running BEAST feels like stepping back in time. This is partly thanks to its ancient Gtk+ user interface, which features large icons, dithered shading, and primary colors. But it's also because this is a music composition tool that uses an old-fashioned analogy to help you create music. The analogy is the idea that simple modules can be connected together with virtual wires to create complicated structures. The process was pioneered, through necessity, by the pre-Moog synthesizers of the '50s and early '60s, where engineers (e.g., Delia Derbyshire) would squeeze every ounce of potential from hardware by rewiring individual modules for specific requirements. The Alsa Modular Synth takes a similar approach in software, although its modules are more traditional and aligned with those of classic synthesis. BEAST, on the other hand, combines many of these modules with a myriad of other views, so that you can make music using a variety of different methods and sound sources in the same application.
The modular component is most visible in the routing view, where you can edit how sounds are put together and controlled. There are many different modules to try, each with their own collection of inputs and outputs. Input can be taken from audio and MIDI sources, and LADSPA effects can be used just like internal modules. There's a variety of oscillators, modulation sources, envelopes, and effects for creating both normal sounds and crazy outlandish effects. You can then control this sound using the note editor, which works just like Matrix in a more standard sequencer. Click on a point to add a note. These are then painted into the track view so you can change their playback order and the overall construction of your music. A mixer view lets you control the levels and add further effects, and everything can be exported as a single audio file.
BEAST is an excellent piece of software and perfect for older hardware or low-resolution screens, as so much can be done without launching anything else. It's also very inventive, as you can change so much about how sounds are generated and put together. You can use the routing view to create notes as well as sounds, for example, which is excellent if you're trying to recreate the kind of algorithmic music of Steve Reich, or just experimenting with different kinds of input hardware. There's even an built-in audio editor, so you don't need to launch Audacity if you don't want it.
This major update adds SoundFont support, which is probably the most common sample bank format for computers. The DSP engine is also multithreaded, which is ideal if you have a penchant for costly reverberation, and the GUI is being rebuilt using HTML and JavaScript, which should help BEAST herald in a new era. There are now many different kinds of music and audio software for Linux, all with their own strengths and weaknesses, but if there was an award for the music software with the broadest feature set, BEAST would win it.
Project Website
https://testbit.eu/wiki/Beast_Home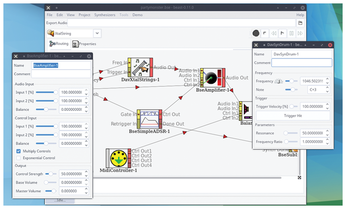 Old school gaming
Open Adventure
Almost 40 years after their invention, text adventure games, or interactive fiction, are still alive and flourishing. There are popular competitions each year to find the best works, and employees from the companies like Magnetic Scrolls are bringing their old games to back to life.
Who would have thought you'd be able to buy a Linux version of The Pawn so many years after its release? Some of this will be nostalgia, of course. Many of us learned to type while trying to work out whether rubbing the lamp did anything, although very few of us have learned to navigate thanks to the maze of twisting little passages. But, because those early machines lacked any real graphical prowess, the text descriptions in interactive fiction seemed infinitely superior in our imaginations. That's perhaps why there is more to interactive fiction than pure nostalgia, and perhaps why the scene is still thriving.
One of the very first of these games was Colossal Cave Adventure, written by William Crowther and Don Woods. Rather surprisingly, the game has never properly been available under an open source license. This has more to do with many people treating it as public domain than for any other reason. But, considering its significance, it seems right that the game gets a proper release. And, that's just what's going to happen, thanks to no other than Eric S Raymond. Raymond has placed a port of the last version (v. 2.5 from 1995) ported for modern environments onto his GitHub page, with the approval of both of the original authors. Raymond has called the original "an important historical artifact," and it's certainly a milestone in computer evolution. If you've never played it, there's never been a better time.
Project Website
https://gitlab.com/esr/open-adventure.git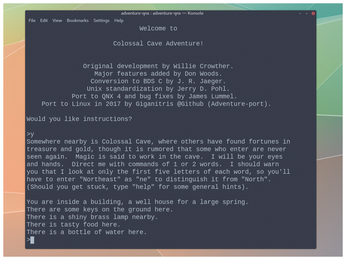 comments powered by

Disqus
Visit Our Shop
Direct Download
Read full article as PDF: