Ergonomic Computing and Open Source
Open Hardware – Ergonomics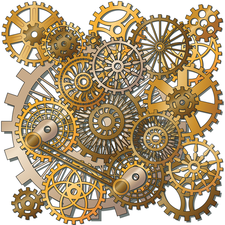 Finding ergonomic open source software and hardware can be difficult, but it's becoming easier.
Ergonomic computing is a subject that only interests most people when they start having injuries. However, there is much to be said about preventative measures, and, with an aging population, ergonomic devices are becoming increasingly common. However, if you prefer to use ergonomic devices that also use open source software and hardware, the options range from limited to nonexistent.
Choosing ergonomic hardware can be difficult, because there are no standards for using the term. Too often, "ergonomics" is little more than a buzzword. Just as gluten-free can be seen in the grocery store on oranges, nuts, and countless other products that do not have gluten in them to start with, so many devices that are labelled ergonomic are of dubious value for those who wish to minimize the results of repetitive stress or prolonged inactivity. For example, although standing desks have been widely touted as healthier, and even as making users smarter and more productive, such claims are typical of untested devices and should be regarded skeptically. Moreover, some studies suggest that standing desks are no healthier than sitting, and that the problem in both cases is being still for long periods of time [1].
With the verdict still out on such allegedly ergonomic devices, discussing them seems pointless. For that reason, I will focus on three general categories in which ergonomics has been studied more thoroughly: chairs, keyboards, and pointing devices.
Chair Ergonomics
I am unaware of any open source designs for chairs. Rather, the reverse is true: Ergonomic chairs are regarded as masterpieces of industrial design and are prestige products that are priced accordingly. Depending on the chair and the selected options, an ergonomic chair can cost from $500-$3,000. Leading manufacturers of ergonomic desk chairs include Humanfactor [2] and Steelcase [3], but the best known is probably Herman Miller [4], a furniture company that is now as well known for its chairs as its modern furniture. Herman Miller's line of chairs include the Aeron (once a popular perk at tech startups), Celle, Embody, Mirra 2, Sayl (Figure 1), and Setu. One reason for Herman Miller's predominance is that each of its product lines is described in depth on its site, which gives buyers a sense of what they should look for in an ergonomic chair.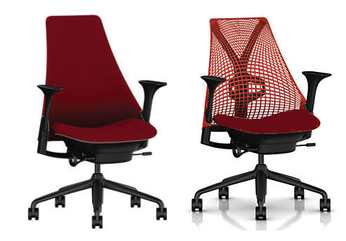 Well-padded chairs are often thought of as executive chairs, but are generally the last ones you should consider when buying an ergonomic chair. Instead, look at the suspension on the chair's back, and, to a lesser extent, the seat. Usually, an ergonomic chair looks much thinner, if not spindly, than the traditional executive chair, but it is actually far healthier.
In addition to the suspension, look at the available features. The seat height should be adjustable, so that it can be set to your height, and so should the armrests – not only vertically, but horizontally as well. Depending on how you sit when typing, you may also want the tilt of the seat to be adjustable. If you spend eight hours or more at a keyboard each day, you should also check whether lumbar support is available on the back.
Whenever possible, you should also try possible chairs before buying. Is the chair stable? Can you lean back in it? If you like to slide across the floor to colleagues' workstations, is the chair light enough for you to continue to indulge your habit? These are only questions that you can answer in person. Very likely, your final choice will be idiosyncratic, if only because some chairs are intended for different weights.
Keyboard Options
Any keyboard can give you relief from repetitive stress if you use keyboard shortcuts rather than the mouse and menus or toolbars. Of course, keyboard shortcuts take a while to learn, but Linux users have an advantage that Vim key bindings are available for a wide variety of desktop applications, including Firefox, Chrome, and LibreOffice, as well as many desktop editors [5]. Other tools, such as Bash history and tab completions and even arrow keys, can also keep your hands on the keyboard and making minimal motions.
Some relief can also be had from programmable keyboards, such as many models that are sold for gaming, such as the Razer [6] line of products. These keyboards can be programmed with the macros of your choice to cut down on typing. Many of these gaming keyboards also have backlit keys, which can reduce eye strain in dim lighting, as well as mechanical keyswitches that generally require less pressure when typing. However, check that such keyboards have a web-based configurator, or else you may be unable to configure them easily on Linux. A safer option is to consider Input Club's open source programmable mechanical keyboards, some of which ship assembled, and others which are aimed at the do-it-yourselfers [7].
True ergonomic keyboards have other options to make typing easier. Many are divided into halves that can be positioned as close or as far apart, or even horizontally. The halves can also be tilted in several different ways. On each half, keys are arranged in curves to reduce the strain on reaching fingers and arranged in a slight bowl so that fingers move more naturally. Perhaps the most important feature is that the banks of keys are arranged in a diagonal line, instead of each higher row of keys being staggered to the left, as on most keyboards – a feature that reduces the distance between them.
All the features of both programmable mechanical keyboards and ergonomic keyboards are available in least three open source keyboards: the ErgoDox EZ [8] (Figure 2), Input Club's Infinity ErgoDox (which comes in a kit) [9], and the Keyboardio Model 01 [10]. Mounted on solid maple, the Model 01 also offers aesthetics far in advance of any keyboard on the market, whether proprietary or open source. Like other programmable mechanical keyboards or ergonomic keyboards, these open source alternatives sell for $300-$325.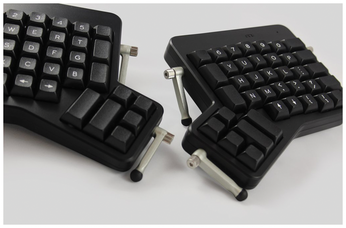 The Mouse and Other Pointing Devices
Despite its widespread popularity, the standard mouse can cause arthritis, tendonitis, and carpal tunnel syndrome, because it places the hand in an unnatural position for prolonged periods [11]. Many so-called ergonomic mouses have been manufactured, but, even with programmable buttons, their improvement is minimal. The best-regarded traditional mouses are those like the ones manufactured by Anker and Anthrodesk; these mouses are on a vertical angle [12].
Instead, many look for an alternative in other pointing devices. One alternative is a trackball, which moves the cursor using a roller. However, while the hand is not clenched when using a trackball the way it is with a mouse, it remains outstretched. In my experience, trackballs take some practice to use well and, while an improvement on the mouse, can still cause injuries when used over a period of hours.
The most ergonomic alternative is a drawing tablet. If you are using one primarily as a pointing device, the cost is about $90-$140 for an entry-level tablet. The tablet itself is a map of your monitor screen, and the cursor is moved by a stylus, with a button for right-clicking. For scrolling, the stylus can use the windows' scrollbars, or else you can use the keyboard's arrow keys.
The stylus is gripped like a pen and can be put down or balanced with a couple of fingers when typing, a change of position that helps to reduce repetitive stress. In addition, tapping the stylus on the tablet to activate a link is a mild gesture compared to moving a mouse and clicking a mouse button. With most tablets, you can scroll when the stylus is slightly above the tablet. Add a wrist pad to place your hand a bit higher than the tablet, and the hand is poised in as comfortable a position as possible.
Best of all, as detailed in "Command Line – xsetwacom" in this issue, support for many tablets from Wacom [13] is compiled directly into modern Linux kernels (Figure 3). Using xsetwacom, users can configure tablets by issuing a series of commands and compiling them into a script to run before using the tablet. While this support is quirky, in the long term, the health of your hands and wrists make the effort worthwhile.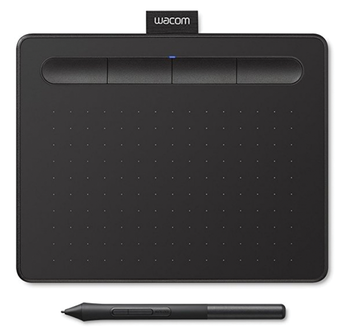 comments powered by

Disqus
---
Support Our Work
Linux Magazine content is made possible with support from readers like you. Please consider contributing when you've found an article to be beneficial.
---