Ten PDF Readers
GSView
The non-free GSView [6], developed by US-based Ghostscript specialist Artifex Software, is primarily a user-friendly viewer for various formats. Besides PDF and PS documents, the program also opens JPEG, PNG, and EPUB files (version 2, without DRM). You will find 32- and 64-bit Linux installers on the vendor's website.
GSView comes with a modern interface (Figure 4) and uses the MµPDF viewer framework for rendering content. Strikingly, the GSView displays even large documents with several hundred pages and large-format photos extremely quickly. In the Options | AntiAlias menu, you will find different edge-smoothing levels, which make text with small font sizes easier to read.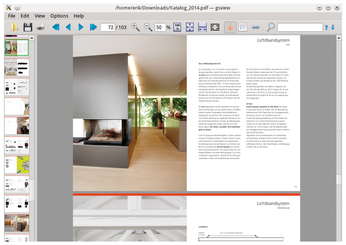 A full-text search, navigation options to links, and individual page copies are possible. However, GSView lost points for the way it handles comments. The viewer displays existing annotations as symbols in the document but does not open them, and you cannot add your own comments. GSView cannot fill out forms, does not support bookmarks, and cannot handle attachments.
GV
The graphical Ghostscript front-end GNU GV [7] is developed by the Free Software Foundation. The reader is available for download on the project's FTP servers. After launch, the program catches the eye with its rustic appearance (Figure 5), and user guidance at first takes some getting used to, although it is quite easy to comprehend, thanks to self-explanatory symbols and buttons.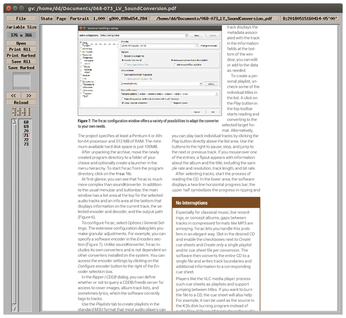 GV is a viewer only and has no special features except a presentation mode (which is hidden in the State menu). The program displays embedded comments with a colored symbol but cannot open them. In most cases, GV ignores graphical elements inserted by other PDF readers, such as text boxes, frames, and colored markers. The program cannot handle file attachments or forms.
The reader shows no weaknesses in terms of the display – GV even opens large documents quickly and without the delays typical of other viewers. Especially for large files with many embedded images, GV was one of the fastest candidates in the test.
Because the program can be controlled almost completely with the keyboard, GV has a speed advantage. A click on the magnifying glass displays marked areas in a separate window at different magnification levels.
MµPDF
The sixth candidate, MµPDF, also developed by Artifex Software, is a framework with a rendering engine for PDF and EPUB documents. The company has both commercial [8] and GNU Affero General Public License (AGPL) open source [9] versions. The developers focused on speed and low resource requirements. The lean program can be found in the repos of many distributions. You start the program in the terminal and enter the name of a PDF file. Called without parameters, the tool lists its options, including one for opening password-protected PDFs.
The minimalist interface appears without menus or toolbars (Figure 6). MµPDF is controlled with the keyboard, with keyboard shortcuts for rotating, enlarging, and reducing the display and for adding and jumping to bookmarks.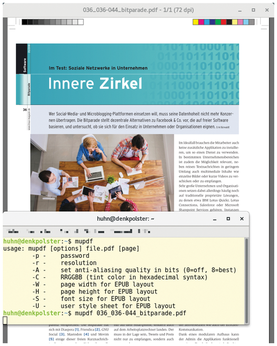 A comment function is missing. MµPDF displays comments made in other readers as balloons, but with no access to the content. Markup inserted with other readers was not always displayed by MµPDF in the test. It cannot fill in forms and ignores file attachments.
comments powered by

Disqus
---
Support Our Work
Linux Magazine content is made possible with support from readers like you. Please consider contributing when you've found an article to be beneficial.
---