Exploring elementary OS
Honey, Where Are My Apps?
Unlike many other Linux-based distributions, elementary OS doesn't come with a boatload of applications. You won't find LibreOffice, Firefox, VLC, and so on preinstalled. Given so many choices in the Linux world, it was difficult for the elementary OS team to choose such default apps.
"Some users prefer LibreOffice; others like Calligra; some would want AbiWord. So instead of choosing apps for them, we let users install whatever app they need," said Fore.
That's not the only reason that elementary OS comes with such a small set of preinstalled apps. Elementary OS only ships GTK+ apps to ensure a consistent user experience and desired integration with the system. Many third-party apps like Firefox don't offer full GTK+ support.
The elementary team used to ship such apps, but it resulted in a bad user experience, so they decided to stop. "Users can still install the apps they want, but we are working towards offering apps that work great with our platform," said Blaede.
The elementary team works with developers to help them curate their apps for elementary OS. They have very comprehensive documentation for developers, so that they can offer great integration with the platform [4].
As much as I appreciate elementary OS' desire to offer a consistent experience, there are many more users of Firefox and Chrome. I can't expect companies like Mozilla and Google to care about one of the many Linux distros like elementary OS. Their baseline is Ubuntu and Fedora/openSUSE. However, it's the elementary OS users who suffer. I can't, for example, watch Netflix on the default web browser.
I think the elementary OS team should look at this problem from a different perspective and refine the OS so that it can offer the same experience that you get from Ubuntu, Fedora, openSUSE, or Zorin OS. None of them break third-party apps the way elementary OS does.
How to Install Apps
Elementary OS is based on the Ubuntu LTS versions, so every driver, codec, and app that's available on Ubuntu is available on elementary OS. There are two ways of installing applications on elementary OS: the GUI way and the command line. Since elementary OS focuses on look and feel, I chose to stick to the GUI method and see how far I could go. I used the AppCenter and installed LibreOffice, gedit, Gimp, Firefox, Thunderbird, and VLC (all I needed for my writing machine).
Just open the AppCenter (Figure 5) and search for the app you need, open the app, and hit the Install button – easy peasy. The AppCenter has both paid and free apps (more on that later).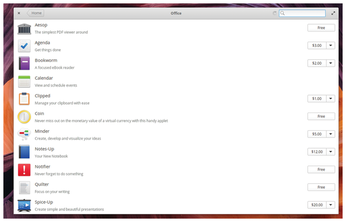 You can also install "free" apps, which are in the repository, using the command-line interface. I installed LibreOffice by running the following command:
apt-get install libreoffice
Unlike other Ubuntu-based distributions, elementary OS does not offer a clutter of system update tools. AppCenter is the tool that shows you all the updates – both app level updates and OS-level updates (Figure 6). Just go to AppCenter and check if any updates are available. If there are any updates available, elementary OS also shows a notification on the top right corner.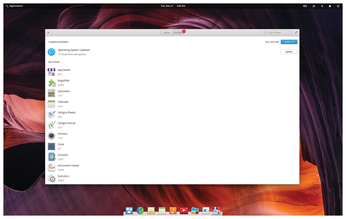 Alternatively, you can use the command line to check and install system updates:
sudo apt-get update
sudo apt-get dist-upgrade
Since elementary OS is based on Ubuntu LTS releases, you don't have to worry about a system upgrade every six months. However, I do recommend running the system update command on daily basis.
Some Rough Edges
Not everything is rosy in the elementary OS world. One of the biggest challenges that I faced was lack of integration between mail, calendar, and contact apps (in fact, there is no contact app). I had to configure the email and calendar separately, which also meant that, unlike Apple mail, if there is a calendar invite in my mail, I couldn't add it to my calendar directly from the mail app. Since there is no contact app, and Gnome Online Accounts doesn't work in elementary OS, I could not bring my contacts to the platform.
The elementary OS team is aware of the issue. "We are actually in the process of rewriting Mail to first reach feature parity, and then soon after to enable nicer features like this. Instead of the custom Geary IMAP engine, the new Mail is using LibCamel and EDS, which means tying into contact and calendar data should be much more straightforward," said Blaede.
In the meantime, I resorted to using Thunderbird, which has contact and calendar extensions.
Despite elementary's focus on design elements, I found inconsistency in the maximize and minimize buttons. In fact, there is no minimize button. At the same time, the maximize and close buttons were at the opposite edge of the window. It was frustrating in the beginning, but soon I discovered that you can maximize an app by double-clicking on the top bar of the window. To minimize the app, click on the app icon on the dock.
In spite of the minor inconsistencies, what is appealing about elementary OS is that, unlike every other Linux distro (except for Zorin OS), you don't have to do a lot of fine-tuning to get the look and feel you want. There are no "10 things to do after installing elementary OS." It's a "just works" OS. The creators have already taken care of all the dirty work.
That leads us to the main question…
comments powered by

Disqus
Visit Our Shop
Direct Download
Read full article as PDF: