The Big Picture
Interview – The Xen Project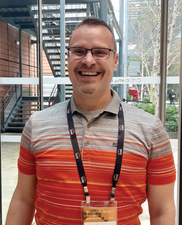 Lars Kurth of the Xen Project talks about trends, markets, and the project's various threads of development.
There's nothing like someone's passing to get one to reflect on the fickle nature of life. The Xen Project's [1] very lively chairperson, Lars Kurth, sadly passed away not long after our interview at the Open Source Summit in November 2019. Lars had been with the project for almost a decade and was instrumental in several pivotal moments in Xen's history, including its move to the Linux Foundation. He conceptualized and executed several key decisions and supervised the significant architectural changes that helped the project go beyond the realm of server virtualization and cloud computing. In his last interview, Lars talked about the project's various threads of development and how Xen is all set to disrupt the auto industry.
Linux Magazine: What's happening with the Xen Project?
Lars Kurth: The big picture, ultimately, right now, is [that] there's a number of different trends happening. And I'm trying to kind of condense this into kind of [a] coherent strategy where different stakeholders in the community benefit from it. First, we have the server virtualization and the cloud market segment. Second, we have a whole segment of users, such as Qubes OS [2], and then there's similar products, which are used by the US military called SecureView. So that [SecureView] is based on open embedded, Xen, and extra bits and pieces of OpenXT [3], and they also [are] kind of rethinking the way how the platform is working and also rethinking the approach to Xen. So basically the idea there would be to take Xen as it is right now and just reduce it to the absolutely core minimum, basically as a separation hypervisor, but use the same code base, [and] Kconfig it down to something really small.
[...]
Use Express-Checkout link below to read the full article (PDF).
comments powered by

Disqus
Visit Our Shop
Direct Download
Read full article as PDF: