On the DVD
On the DVD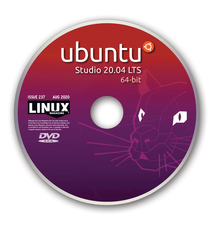 Ubuntu Studio 20.04 and Kubuntu 20.04
Ubuntu Studio 20.04 LTS (64-bit)
Ubuntu Studio is a version of Ubuntu that is outfitted and tuned for creative artists. Onboard the default configuration, you'll find tools for photographers, graphic artists, video production specialists, and audio engineers. Although most of these applications are also available for other Linux systems, Ubuntu Studio ties them neatly into a complete package and manages configuration settings for seamless access.
For audiophiles, Ubuntu Studio boots up with the Jack low-latency audio and midi server, the Ardour digital audio workstation, the Carla virtual patchbay, and a variety of sequencers and synthesizers. Graphic artists will find the Blender 3D creation suite and the PikoPixel pixel art studio. Photographers will appreciate the Darktable virtual light table and darkroom app, and video makers will find a ready-made collection of useful tools for video editing, animation, and post-production processing.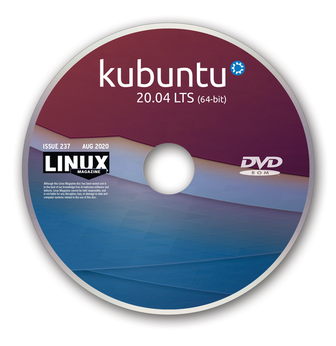 Kubuntu 20.04 LTS"Focal Fossa" (64-bit)
Kubuntu is an official Ubuntu project featuring the KDE Plasma desktop. The latest release is a Long Term Support (LTS) version. In the case of Kubuntu, LTS means the Kubuntu 20.04 release will receive support and updates for three years. The latest Kubuntu comes with the Plasma 5.18 desktop. Recent improvements include a new global edit bar that gives quick access to widgets, activities (workspaces), and configuration options. The latest release also provides better support for GTK applications, improved notification features, and enhancements to the Discover software manager.
A new Kubuntu also means an update to the popular KDE Applications suite, with more than 200 desktop applications for networking, multimedia, office productivity, and more. The KDE Applications 19.12.3 bundle rolled into Kubuntu 20.04 includes updates to familiar tools such as Kmail, KTorrent, KMyMoney, Kdenlive, the Kontact personal information manager, and other signature applications of the KDE collection.
Under the desktop, Kubuntu is very much like the other Ubuntu 20.04 flavors, with Linux kernel 5.4, as well as NetworkManager enhancements and built-in support for the WireGuard VPN manager.
comments powered by

Disqus
Visit Our Shop
Direct Download
Read full article as PDF: