FOSSPicks
FOSSPicks
This month Graham explores Carla, digiKam 7, NoiseTorch, diskonaut, Surge 1.7, Trigger Rally, and more.
Photo management
digiKam 7
One of the biggest compromises you make when you forgo the privacy infringement of online photo storage is convenience. Not only is online storage usually limitless and cheap, it's typically combined with the same clever AI-generated search metadata that drives whatever online platform you choose. Google, Apple and Amazon, for example, all silently trawl through your uploaded photos to recognize common items, colors, locations, situations, and of course, faces. This can really help you find a single image in a collection that might have started over a decade ago, and it's a process that can't be easily replicated on a local machine with local storage and no access to the cloud. Until now.
DigiKam 7 is the latest release of KDE Plasma's flagship photo manager, a photo manager that also happens to work brilliantly on other desktops and (keep it quiet!) Windows and macOS. Its best new feature is one that finally delivers on a function the app has long been experimenting with: deep-learning-powered face recognition. This is thanks to contributions from Google Summer of Code developers, who first demonstrated that neural networks could improve recognition, before integrating the new deep neural network features now found in the wonderful OpenCV library. It uses a previously trained dataset to discover faces in your photos from just a single example, without any online communication. Faces can then be tagged with whatever name you assign to them. Just like any cloud service, the tags will even show the face as a thumbnail, making it trivially easy to find photos with the same person.
If you've not installed digiKam for a while, a first-run wizard steps you through the database back end (SQLite) before asking where your photos are located and whether you want metadata in the database or photos themselves. Although digiKam has always supported a huge number of image formats, this release adds support for Canon's new CR3 RAW files. This is an important addition when you consider how prevalent Canon cameras are in the open source community, thanks to the fabulous Magic Lantern firmware. One of the best things about digiKam is that despite the huge size of many RAW files the import, navigation, and loading of photos is typically very fast. Facial recognition can slow this down, but fortunately you can turn on an option to scan new images automatically.
The application itself is still a powerful tool that's better suited to organization than editing. It does have an editor and some excellent color analysis and filters, but it excels at rating, geolocation, tags, notes, album generation, and export. The last of these supports many of the aforementioned online hosting services, as well as some excellent HTML rendering options for hosting your own photo collection. This release adds a beautiful HTML5 Responsive theme to the latter, for instance, which is perfect for dropping onto a server and browsing from a smartphone. For editing, you're still better off using darktable or RawTherapee, but digiKam now seems to concede this point with good grace, accepting its place as a brilliant catalog and library tool and happy to help its users access external applications and services when needed. Thankfully, facial recognition is no longer one of those external services you need to use.
Project Website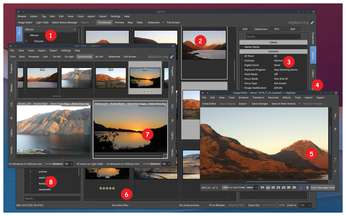 Noise remover
comments powered by

Disqus
Visit Our Shop
Direct Download
Read full article as PDF:
---
Support Our Work
Linux Magazine content is made possible with support from readers like you. Please consider contributing when you've found an article to be beneficial.
---