FOSSPicks
diskonaut
It's incredible how cheap local storage has become. Terabytes of data are within easy reach. And yet, we're all still making the same old compromises when it comes to data storage on the fastest and best media we own. While many of us have an adequate stash of SSDs for day-to-day use, it's equally likely our best M.2 PCIe NVMe SSDs are reserved for the data we access every millisecond. That means we still need to monitor how much we store and where we store it. Just like 120m compact cassettes in the '80s, high-density floppies in the '90s, recordable optical media in the '00s, and flash storage in the recent era, what's stored where is still very important. Which is why tools like diskonaut will always be useful, because they help you discover exactly what's taking up your valuable storage. It also helps that it's a fantastic piece of eye candy.
Even from the command line, diskonaut exudes plenty of style. It's invoked by simply adding the path you wish to explore or by running the command from any directory. You're immediately presented with an updating view of a local folder scan, with new folders and files automatically populating a grid, called a visual treemap, as they're scanned, indexed, and collated. You can start exploring even before this grid has been fully populated, using either Vim navigation or arrow keys and Enter to access a folder. The size of each cell is proportional to the amount of storage it and its descendants (subdirectories) requires. When you find something surplus to your requirements, you can delete it with a simple Ctrl+D. Diskonaut will even keep track of how much space you've been able to free, which is handy if you need to hit a specific target to install a new game.
Project Website
https://github.com/imsnif/diskonaut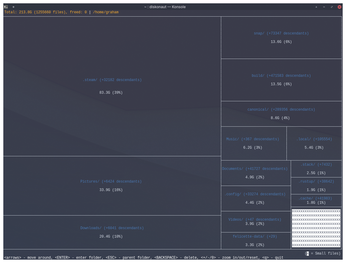 Software synth
Surge 1.7
We first looked at Surge a little while ago, but the project has seen so much development and increasing community momentum over the last 12 months that it's worth looking at again. Surge is a software synthesizer that can genuinely compete with both hardware equivalents and with commercial software synthesizers on other platforms. This makes it almost unique on Linux, because the only other soft synth that gets close is the equally brilliant but less versatile Helm. One of the things that makes Surge unique is its ability to interpret MIDI polyphonic expression (MPE) data. While this is a brand new part of the MIDI 2 specification, there are very, very few synthesizers that can take advantage of it. MPE means you can send touch data for every single note, rather than a single value shared for every note being pressed. Surge can process this data to change a value specific to a single note.
MPE is commonly used to adjust per-note filter values, but it can be equally applied to pitch, LFO speed, or any other modulation source supported by Surge. This ability has even attracted the attention of electronic music pioneer, Roger Linn, inventor of the 1980s-defining LinnDrum; he's now the contributor of a complete set of MPE-inspired Surge presets. Surge is equally flexible in the types of sounds it can make, because it doesn't simply focus on a single type of synthesis, which is what Helm does. It's equally good at both subtractive and FM sounds, for example. The new release improves the sine oscillator for incredibly powerful FM, including wavetables from the classic TX hardware synths and extended feedback modes. There are new reverb, ring modulator, and rotary speaker effects, which can be used separately from a standalone effects plugin, and best of all, an ARM-build, which literally lets you turn a humble Raspberry Pi into a full-fledged modular synthesizer. Surge 1.7 offers all of this while using the new and more open VST3 standard.
Project Website
https://surge-synthesizer.github.io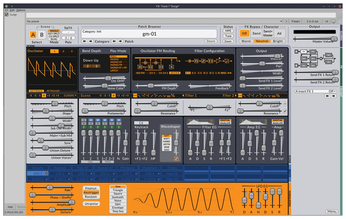 comments powered by

Disqus
---
Support Our Work
Linux Magazine content is made possible with support from readers like you. Please consider contributing when you've found an article to be beneficial.
---