Alternative Linux desktop environments
Zorin OS
Like deepin and elementary OS, one of the goals of Zorin OS [8] is aesthetics. Its desktop (Figure 7) is simple and uncluttered and aimed primarily at new users. What makes it stand out is its unusual feature set, such as the activities overview, universal search, interactive notifications, and its integration of online tools into the interface. More mundane but just as useful, Zorin OS includes a full set of accessibility settings. Its best-known feature is undoubtedly Zorin Appearance, which allows the desktop to emulate Gnome, macOS, and Windows.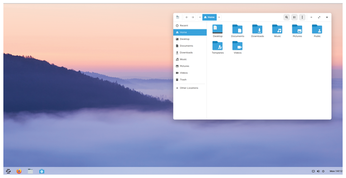 Window Managers
While these seven desktop environments should be enough for anyone, you have at least four dozen alternatives if you move beyond the emphasis on distributions. Before Gnome, before KDE, Linux had other window managers – applications that set how windows were positioned, how they acted, and how they looked as well. Many window managers continue to have some popularity today, and most distributions package at least a few.
Among today's workhorse window managers are the lightweight OpenBox, dwm, Fluxbox, Window Maker, and IceWm. For those who like 3D displays, there is always Compiz. For a tiling desktop, Ratpoison remains a popular choice. How many window managers will make the transition to Wayland if it ever becomes universal is uncertain, but for the time being, there's no shortage of choices before you fall back on the best-known desktop environments or – all else failing – on the command line.
comments powered by

Disqus
Visit Our Shop
Direct Download
Read full article as PDF: