A twin-panel file manager based on Python 3/GTK3
Double Flower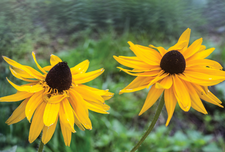 Following in the footsteps of Norton Commander and its clones, the Sunflower twin-panel file manager takes a giant leap forward with a switch to Python 3 and GTK3.
Some programs, such as Netscape, Adobe Photoshop, and Microsoft Office, set the benchmark for future products. For file managers, the discontinued Norton Commander paved the way to easier copying, moving, and editing files at the MS-DOS command line. Norton Commander's view, which was divided into two halves (hence the umbrella term "twin-pane file manager") let users select files from a directory list in one pane by pressing Insert and then transfer them to the directory opened in the other pane by pressing F8.
Norton Commander quickly spawned numerous clones, including Total Commander [1], Midnight Commander [2], Gnome Commander [3], PCManFM [4], and Krusader [5], as well as several other candidates. One of the classics, the graphical Sunflower [6] file manager, has been under continuous development for many years. With version 0.4, the project has switched to Python 3 and GTK3, a radical change that cost the project a great deal of time, which explains the four years between versions. Sunflower 0.4 offers an easy-to-use, highly customizable twin-pane file manager that integrates seamlessly with (but is not limited to) the Gnome desktop.
Installation
Sunflower is not available in the package sources of most popular distributions. But Arch Linux users will find two packages, sunflower and sunflower-git, in the Arch User Repository (AUR) organized by the community. With an AUR helper like Yay, you can install the program by typing:
[...]
Use Express-Checkout link below to read the full article (PDF).
comments powered by

Disqus
Visit Our Shop
Direct Download
Read full article as PDF: