FOSSPicks
QMPlay2
The quest for the perfect media player has become a little like the quest for the Holy Grail. There are many options to explore, with many potential candidates. VLC gets close; it plays a huge variety of audio and video formats and is used by millions. But its many easy and expert configuration panels are difficult to navigate, and the application sometimes fails at even simple tasks, such as playing online content or creating a playlist. QMPlay2 makes it easier to do both of these things, and it supports just as many media formats, thanks to its FFmpeg back end. Another excellent feature of QMPlay2 is its hardware acceleration. This works on OpenGL and Vulkan graphics drivers and can make the difference between being able to play 4K sources, or simply 720p, on low-power hardware.
This being a Qt application, almost everything about the main window can be configured. By default, it's split into quarters. The top left is a tabbed container that holds the playback pane and tabs for the equalizer, download status, Internet radios, and lyrics. The top right holds the content information, with the playlist located bottom right. The bottom left offers two audio visualization modes. Everything is very intuitive. If you paste a YouTube URL into the application window, for example, youtube-dl is first installed (if needed) and the target video plays automatically. There are no intrusive ads, and the video and audio quality is exceptional. You can even control this quality via the Modules configuration page by requesting a specific resolution. The same is true for many of the playback modules supported by FFmpeg. The configuration pages are a huge improvement over those offered by VLC, because they're easy to navigate and understand. There are options from PulseAudio to ALSA, audio and decoder priority, latency values, audio delays, subtitles, decoding options, and hardware acceleration, all of which are accessible and easy to apply.Project Website
https://github.com/zaps166/QMPlay2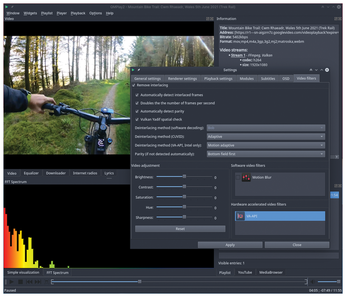 Synthesizer
OctaSine
Back in the very early 1980s, synthesizers were analog and, consequently, very expensive. Rather than the mass manufactured surety of digital, analog required masses of discrete components to make a single sound. If you wanted two sounds, all those components were copied to an identical circuit. Some of those analog synths used two or three sounds to make a single voice, and some could play eight voices together. They cost the same as a small house. The digital Yamaha DX7 was the opposite and almost single-handedly destroyed this analog hegemony. It produced amazing sounds purely digitally and mathematically by exploiting the harmonics that occur when you modulate the frequency of one sound (an operator) with another. Its circuits used software to create 16 voices, whose patches could be saved to memory. The DX7 was relatively cheap, reliable, and soon on every PC soundcard and home games console. The frequency modulation (FM) of the DX7 is still very much with us today.
OctaSine is a VST plugin software synthesizer that updates the sound of the original DX7 on your Linux box. Unlike the wonderful Dexed, which authentically recreates the DX7 sound, OctaSine branches out into new sonic territory and has a slightly different configuration. It has only four operators, unlike the DX7's six, but allows these to be connected and interconnected in almost any way. Each operator is independent and can be modulated by three different frequency modifiers, the envelope, and many other sources. Operator output can be merged to the final output or routed to the input of other operators, recreating the algorithms of the original DX7 plus many more differential configurations. It's complex, but unlike the small LED screen and membrane buttons of the DX7, OctaSine's user interface and audio quality rewards simple experimentation. You can achieve great results by simply clicking around or modifying one of the presets – it sounds fantastic.
Project Website
https://github.com/greatest-ape/OctaSine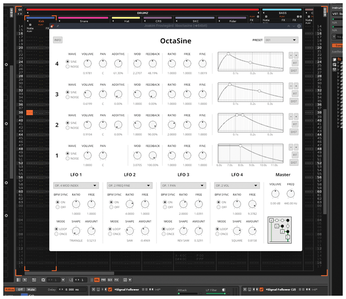 comments powered by

Disqus
Visit Our Shop
Direct Download
Read full article as PDF:
---
Support Our Work
Linux Magazine content is made possible with support from readers like you. Please consider contributing when you've found an article to be beneficial.
---