Deleting metadata from files
digiKam
With digiKam [11], which is part of the KDE Plasma library, you can view metadata with the push of a button and edit the data in a convenient editor. You'll find digiKam in the repositories of all of the popular distributions, and you can use digiKam with any desktop environment. When you launch digiKam for the first time, a multi-step wizard helps out with the basic configuration, which includes paths and settings for the software, as well the link to a database back end.
The program window that appears after the initial configuration has a conventional menubar and buttonbar for frequently used functions and three main panes below (Figure 9). On the left, the system's folder hierarchy is displayed as a tree view; in the center, you can see thumbnails of the image files that reside in the current folder. On the far right, digiKam displays information about the selected image.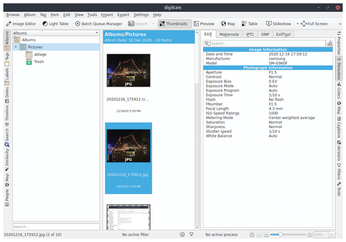 If you select the Metadata tab in the unusual but space-saving vertical tab bar on the far right, the data from the headers of the active image appear in the information pane on the right. digiKam also divides this pane into several tabs. By default, it displays the Exif tags. In addition, the IPTC and XMP tabs will show the metadata for these specifications if available.
To edit the metadata in the active image, click Item in the menubar and select Edit Metadata from the context menu that opens. A separate dialog now lists all metadata sorted by tags and lets you modify the field content (Figure 10). You can also exclude or include individual fields by checking or unchecking the boxes to the left. On the left side of the dialog box, you can choose between several categories that group similar settings. At the top of the workspace, there are additional tabs that let you switch between the different metadata standards.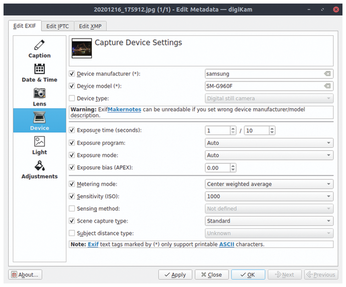 The dialogs for the IPTC and XMP standard primarily contain comment fields, a copyright note, and keywords for keyword tagging. The categories in the left sidebar change to reflect the options available for each standard. Once you have made your changes, first click Apply bottom left in the buttonbar and then OK to close the dialog. You are then returned to the digiKam main window.
XnView MP
The commercial XnView MP [12] tool, which is distributed as freeware for private and educational use, is a cross-platform image viewer with numerous image editing functions. XnView MP supports more than 500 image formats and is available for download for Linux from the vendor's website as a TGZ archive, a DEB binary package, and as an AppImage. The DEB package integrates seamlessly into Ubuntu and its derivatives and also creates an entry in the respective desktop's menu tree.
After starting XnView MP, a clear-cut, tab-based interface opens (Figure 11); it has four panes, a menubar, and a buttonbar. The top left pane contains a tree view of the system's folder hierarchy; in a large pane on the right, XnView MP displays the images from the current folder as previews. In the bottom right pane, you'll find a horizontal category list for tagging the images, as well as an info segment in the bottom left pane that displays the matching metadata in the EXIF, IPTC-IIM, and XMP tabs. However, if the current image has no metadata for a certain standard, XnView MP does not show you a tab for that standard.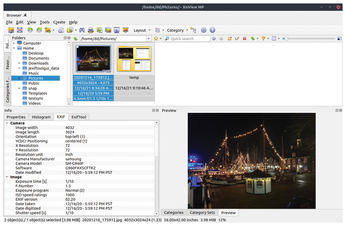 Under Tools | Metadata, you will find various options for editing metadata, sorted by the supported standards. A separate Edit GPS data entry also lets you change existing GPS coordinates. The Delete option removes existing metadata completely, and you can specify which metadata XnView MP should delete in another dialog by checking a box (Figure 12). However, XnView MP does not consider individual tags, but only the respective standards.
While XnView MP can only edit a number of selected Exif tags, it offers more advanced modifications for IPTC and XMP metadata. To modify Exif tags, go to the Transfer dialog under Tools | Metadata, select the individual tags from a list, and populate them with predefined values from a drop-down list.
Conclusions
Linux proves to be very flexible when editing metadata in a wide variety of file formats. While there fewer Linux applications for this tasks compared with other operating systems, the tools that are available cover all common areas of application (see Table 1). Both command-line users and users who prefer a GUI will find a solution to meet their needs.
ExifTool

jExifToolGUI

ExifCleaner

jhead

mat2

Metadata Cleaner

digiKam

XnView MP

License

GPL

GPL

MIT

Public Domain

LGPL

GPL

GPL

Commercial

Properties

GUI

No

Yes

Yes

No

Yes1

Yes

Yes

Yes

Text-Based Interface

Yes

No

No

Yes

Yes

No

No

No

Cross-Platform

Yes

Yes2

Yes

Yes

Yes

No

Yes

Yes

Supported Standards/Formats

Exif/IPTC/XMP

Yes

Yes

Yes

Yes

Yes

Yes

Yes

Yes

Multimedia (Image/Audio/Video)

Yes

Yes

Yes

JPEG

Yes

Yes

Yes

Yes

PDF Files

No

No

Yes3

No

Yes

Yes

No

No

Office Files

No

No

No

No

Yes

No

No

No

Functions

Removing Metadata

Yes

Yes

Yes

Yes

Yes

Yes

Yes

Yes

Modifying Metadata

Yes

Yes

No

Yes

No

No

Yes

Yes

1File Manager, 2Java, 3Restricted
Image editors like digiKam or XnView MP require some training, as they cover a very large range of functions, which makes their interfaces more confusing. Casual users who just want to remove metadata from their images for publication are better off using one of the point-and-click, meta tag removal-only programs. \
comments powered by

Disqus
---
Support Our Work
Linux Magazine content is made possible with support from readers like you. Please consider contributing when you've found an article to be beneficial.
---