MEPIS and antiX come together
Distro Walk – MX Linux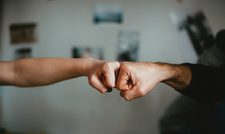 MX Linux is fast, friendly, and focused on function.
MX Linux is a collaboration between MEPIS and antiX, whose initials form its name [1]. AntiX is a popular lightweight distribution, while MEPIS once occupied a role similar to that of Ubuntu or Linux Mint today, in that it added usability to Debian on the desktop. Although a relative newcomer, MX Linux stands out among the hundreds of other distributions by combining the best of its ancestors, offering the speed of antiX and the user-friendliness of MEPIS's desktop tools.
MX Linux's flagship version features Xfce, with variations for older computers as well as 32- and 64-bit machines. Thirty-two and 64-bit versions are also available for KDE Plasma and Fluxbox, offering users midweight, heavyweight, and lightweight versions, plus those designed for admins and for Raspberry Pi. The installer goes through the usual steps, but it is noteworthy for the detailed help embedded in the window, which not only explains the current choices but also how to use the interface when necessary – a thoroughness unusual in installers (Figure 1). Similarly, MX Linux first boots into a Welcome screen that draws attention to the major system tools and also offers links to a tour, videos, forums, an FAQ, and the user manual, all of which provide useful starting points for exploring the desktop environment (Figure 2). For more advanced users, the About tab offers a summary of both system hardware partitions, boot mode, and active repositories.
Desktop and Structure
Booting into the Xfce edition, I was surprised to see an impressionistic wallpaper suitable to Wildflower (the name of the latest release) and not the abstract patterns that have become the norm in many distributions (Figure 3). Otherwise, the MX Linux desktop as a whole seems less polished than most, without the unity of design that has become common on other distributions during the past decade. Utility windows, for example, are not consistently the same size, nor do all the icons seem designed as sets. Instead, aesthetics seem a distant second to functionality – perhaps not surprising in a relatively recent distribution.
[...]
Use Express-Checkout link below to read the full article (PDF).
comments powered by

Disqus
Visit Our Shop
Direct Download
Read full article as PDF: