Pi-Top Prepares to Revolutionize Open Hardware
Do-It-Yourself Laptop Kit
By
Riding the popularity of the Raspberry Pi, a new company is producing a modular laptop kit to house small-board computers.
In 2012, the Raspberry Pi became an instant hit. Overnight, the credit-card-size computer created a community of educators and hobbyists that continues to grow to this day. Now, a London-based company called Pi-Top, a laptop based on the Raspberry Pi, appears ready to emulate that success in mid-2015 with a Raspberry Pi-based laptop that is both modular and a very nearly completely free-licensed laptop that promises to be a major contribution to open hardware.
Pi-Top, a for-profit company, was founded in early 2014 by Jesse Lozano, a self-taught developer who was originally studying law, and Ryan Dunwoody, an Oxford engineering graduate. Before that, Dunwoody had used the Pi while building solar projects with low power consumption, and Lozano had been tinkering with the Pi for several months.
"When Ryan and I first met," Lozano recalls, "almost the first thing we discussed was our own Raspberry Pi projects. We both thought it was a great learning tool but that it was limited by being reliant on an HDMI screen and being inherently non-mobile. We both had big boxes with all our Raspberry Pi kit in it, and taking it around the city was a nightmare. Ryan mentioned he was working on how to make the Pi mobile, and we both thought we should make a Raspberry Pi laptop."
After the two partners displayed their first Pi-Top prototype in a hardware innovation class in Birmingham, "We had people contact us asking for advice on how to learn hardware, and so we set out to make the free online lessons for Pi-Top," Lozano says. For Lozano, a large part of the motivation for the lessons came from his own experience in learning "programming online for free. I think it's amazing you can learn such valuable skills online for free, and we really want to provide that [sort of] resource for hardware." The Pi-Top team is now developing instructions not only for assembling the company's products, but also to teach such topics as understanding circuit diagrams, resistor color codes, and power flow to help the Pi community make better use of their products in maker projects.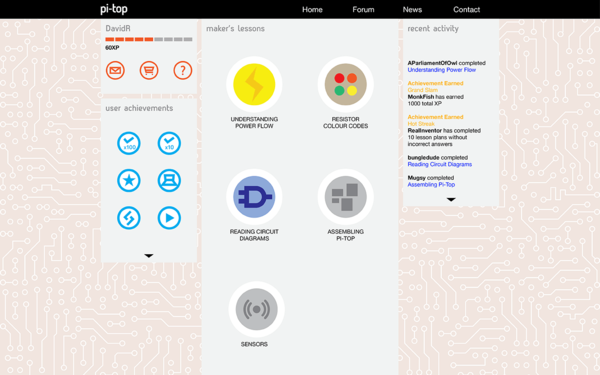 "We want to make hardware as accessible to learn as software is now," Lozano says. "A big part of that is giving people an open source platform that can be used anywhere, to learn from and contribute to." All software for the Pi-Top and its extensions will be available on the company site – "all open source," Lozano emphasizes. Although Pi-Top itself does not advertise the fact, this policy should make its lap-tops close to being free-licensed – the main exception being some proprietary firmware from Broadcom on the Pi board itself that is beyond the company's control
Thanks to a fundraiser on Indiegogo in the last months of 2015, the Pi-Top will also be one of the first modular laptops available. Unlike work stations, very few laptops permit customizable hardware, but because the fundraiser reached its stretch goals, Pi-Tops will now be compatible with most microcomputers on the market, including the BeagleBone Black, Banana Pi, and the UD00, Odroid Xu3, and C1 boards.
Most laptops, as Lozano points out, tend to be replaced every few years – about the time it takes for manufacturers to replace an old product with a completely new one. By contrast, with a modular design and free software, "our end users can take advantage of the latest technology without having to replace the entire unit. You can also create your own circuit boards that add functionality if we haven't created what you're looking for yet. Not everyone will do this, but it's a new way to think about how we may be upgrading consumer electronics in the future. Completely customizable products are possible and will become more mainstream as 3D printing technology becomes more advanced."
In fact, the fundraiser was so successful that Pi-Top received $173,676, rather than the $80,000 for which the company hoped. "We had a wide range of support across the world," Lozano says. "The majority of our backers are from the US, UK, and Germany, both individuals buying it for themselves and parents buying Pi-Tops for their kids. We received a lot of support from the maker community and educators and got a huge amount of feedback before we launched."
"We have made a real effort to create a desirable and fun product that would appeal to the 5 year old and the 65 year old," Lozano says. So far, Pi-Top seems to have found the broad support its founders were hoping for.
Hardware Specs and Expectations
In the aftermath of the fundraiser, Pi-Top has yet to release the specifications made possible by reaching its stretch goals. However, Lozano does say that the Pi-Top will have an injection-molded case; a keyboard, trackpad, and WiFi adapter; and a 13.3-inch LCD screen. The laptop will also have build instructions, as well as STL files for 3D printers with 5x5-inch and larger print bed sizes. Whatever the rest of its specs prove to be, the Pi-Top will run Raspbian, a Debian-derivative distribution designed for working with the Raspberry Pi. Lozano says that more exact specs should become available in the next few months, as the company plans for a May 2015 target release date.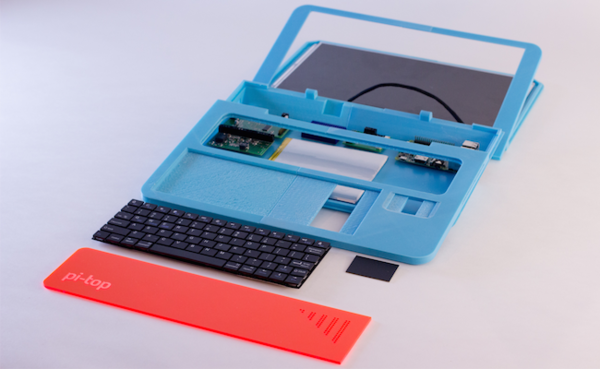 According to Lozano, the result will be a kit "built with beginners in mind. No soldering is required to build Pi-Top, and a beginner should expect to be able to complete the kit in an evening. There will be both community-led online support, and traditional online support from us."
Asked whether the Pi-Top is meant as a control for do-it-yourself products or as an ordinary laptop, Lozano explains that the laptop's modularity will mean that "you can interchange microcomputers and instantly have a completely different experience. You can use your Pi-Top with a Raspberry Pi to work on your Pi-related projects and use the Pi-Top as a control for your projects. You can also choose to plug in the eight-core/2GB RAM Odroid-XU3 and have quite a powerful little device capable of behaving like any commercial laptop you might use on a daily basis. On a practical use front, if you want to turn your microcomputer into a laptop, Pi-Top is your best option."
Besides the laptop itself, Pi-Top is also planning a series of of HATs, or programmable hardware boards, that extend the laptop both for maker projects and general use. Lozano explains that HATs attach "straight to the top of your Raspberry Pi through the acrylic slice in the Pi-Top." The company currently makes HATs for home automation, robots, and LCD screens and has plans for many more, although Lozano adds that "we haven't decided what our next HAT will be."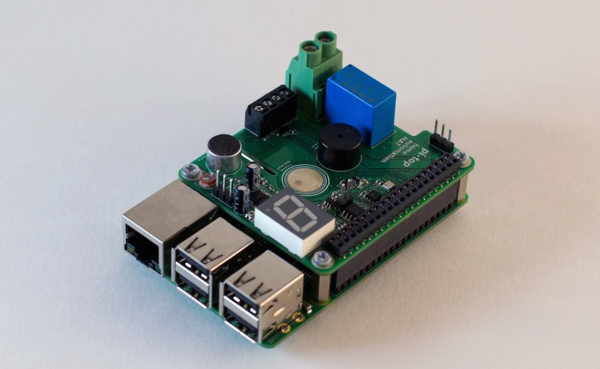 Market Niches and the Future
Lozano suggests that the Pi-Top is primarily a learning tool. "I see our current niche [lies] in giving people a great way to use a Raspberry Pi in its own right, that also offers a clear gateway into understanding hardware. We have had a great reaction from schools, especially after the Indiegogo campaign. Pi-Top is easy to store, turns any classroom into an IT room, and saves the classroom time, as you don't have to set up PI-Top like a traditional Raspberry Pi."
Lozano is talking about the Pi-Top's early adoption, and there seems little doubt that easily understood, freely available instructions about hardware will be widely welcomed. However, assuming that the Pi-Top is released as envisioned – and, so far, there seems no reason to believe it will not be, except perhaps for a month or two of slippage in the release date – I suspect that he is being cautious. The Pi-Top's modularity and emphasis on free software suggest that it is an idea whose time has come.
This time next year, the Pi-Top could easily be second only to the Raspberry Pi in popularity. If so, the state of open hardware will have taken a giant leap forward.
comments powered by

Disqus

Issue 269/2023
Buy this issue as a PDF
Digital Issue: Price $12.99

(incl. VAT)