Linutop 3: Fanless Mini-PC with Linux
Sep 09, 2009
The French company Linutop has released its like-named mini-PC in version 3. The energy-saving Linux machine is perfect for office workplaces, Internet kiosks and advertising displays, for example.
While other mini-desktop manufacturers rely mainly on Intel's Atom CPUs, the Linutop 3 runs on a VIA C7 processor at a 1-GHz rate. The fanless device measures slightly more than 9x9x2 inches and weighs just over 4 pounds. It has 2 GBytes Flash memory and 1 GByte RAM that can be increased to 2 GBytes, and uses a maximum 20 Watts power. The suggested retail price is about $492 at the current rate of exchange.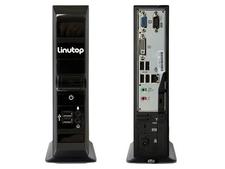 The Linutop 3 has six USB ports, a serial interface and audio in and out. Inside is room for a PCIe and two SATAs. The built-in Gigabit Ethernet card supports booting from the net via PXE. The graphics card provides resolutions of up to 1920 x 1080 pixels and has VGA and DVI output.
The device uses its own Xubuntu version Linutop OS that uses the Xfce desktop environment. Firefox, Pidgin, OpenOffice, a PDF viewer and the VLC media player with codecs for Divx, MP3, MPEG-1/2/4 and other formats are pre-installed. An onscreen keyboard is also available. The software package comes in English, German, French, Spanish or Italian. Linutop provides a one-year warranty extensible to three years. Linutop 3 is available through their online shop
Comments
nice!

I've got myself one of these. The reason I got it is not for the hardware, but it's the way they tweeked the OS to make it really low maintenance and secure. http://www.linutop.com/software.en.html
comments powered by

Disqus

Issue 268/2023
Buy this issue as a PDF
Digital Issue: Price $12.99

(incl. VAT)