Customizing the way your browser stores and organizes data
Sweeping Up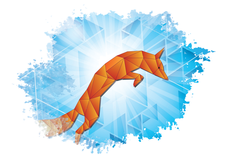 Web browsers collect a large amount of data about the user's browsing habits. If you care about privacy, you might want to clean up your browser and configure some custom privacy settings.
The web browser is one of the most popular desktop applications. Regardless of whether you prefer Firefox, Chrome, Opera, w3m, Internet Explorer, Safari, or another browser, you probably spend a lot of time on the Internet. To make life easier, modern web browsers (and web servers) collect information about us and our behavior. Thanks to this system of data storage and collection, we benefit from amenities such as automatic completion of URLs and access credentials, as well as predictive content buffering. But keeping all this browser data around also has some disadvantages – especially if you're concerned about privacy. This article offers some tips for cleaning up browser user data. The examples in this article use Firefox 57, but other browsers have similar features.
Basic Settings
To tweak Firefox settings, choose Edit | Settings. Alternatively, you could just type about:preferences in the address bar or click on the button with the three horizontal dashes in the upper right corner (Figure 1) and then select the gearwheel icon.
The Settings dialog window contains a selection menu with higher-level terms on the left and detailed information on the right. Many details are hidden in submenus and additional windows, making orientation difficult. For now, we will focus on the settings related to data protection (Figure 2). Choose Privacy & Security from the menu on the left side of the Preferences page, or enter about:preferences#privacy in the address bar.
History and Activities
The settings in the Tracking Protection section let you block websites known to keep track of your activities. With the default settings, Firefox uses the basic version of the Disconnect block list [1]. Click the Change Block List button to adjust the filter rules. You can switch between the two modes: Basic protection and Higher protection. Mozilla recommends that you not block all trackers to allow websites to work as expected. You can exclude websites that you do not want to track you.
The History section lets you specify how Firefox will log the progress of the websites you visit. By default, Firefox automatically remembers your browsing history. For more privacy, change the setting to Never remember history, or choose Use custom settings for history for user control of the privacy settings (Figure 3).
To see the history, press Ctrl+H or select Library | History (Figure 4). Press Delete to delete a recorded entry. Use the input field above to start a search for the specified term and quickly jump to the desired entry. To remove the entire history, choose Library | History | Clear Recent History.
Removing Cookies
When you meet someone for coffee, the host will often offer you cookies. If you visit a website with your browser, it too will offer you a few cookies, in this case in the form of small text files saved locally by the browser.
The files you receive help the web page to identify you on your next visit by means of a stored session ID. For example, you don't have to register again, such as with a forum or a webmail. Other information, such as whether and how often you visit the site and which settings you use for surfing, also ends up in the browser's cookie jar.
Not all cookies taste good. For example, cookies can be used to inject malware into the browser, to sniff critical data, or to spy on your surfing behavior.
When you call up a website, you often receive what are known as third-party cookies in addition to cookies from the domain you actually accessed. For example, if you navigate to a travel agent's website, you will often find one of the typical Facebook like buttons next to the individual offers. This element, which is retrieved directly from the Facebook servers, now sets a Facebook cookie when the travel provider's website is loaded; the social media service can then read this cookie in order to present you with targeted advertising.
You can view the stored cookies by clicking the Show Cookies button (Figure 5) and removing them if necessary. Keep in mind that this restricts the functionality of many websites if you completely block cookies: For example, a typical online store or forum throws you out of the system every time you visit a page, so you would have to log in again and again.
comments powered by

Disqus
---
Support Our Work
Linux Magazine content is made possible with support from readers like you. Please consider contributing when you've found an article to be beneficial.
---