Netscape Navigator 9 for Linux
Oct 17, 2007
AOL has just released a new version of Netscape Navigator based on the Mozilla Firefox browser just like its predecessor. Besides cross-platform capabilities, and thus Linux support, version 9 adds new features and a new look.
The name Netscape is likely to trigger a wave of nostalgia among computer users. After all, the browser has been around since 1994. At the time, it was still based on the Mosaic browser code. Navigator's zenith with respect to use and distribution was 1996, but things quickly went downhill after this. Problems with Java and JavaScript, and the Browser Wars between Netscape and Microsoft's Internet Explorer hit the Netscape browser hard.
Version 6.0 was the first to use program code by the Mozilla Foundation under the hood of Netscape Navigator. And the latest version, Version 9, also uses Mozilla code. Based on Firefox 2.0, Navigator uses the Gecko engine to support cross-platform website rendering. Netscape is extensible using Mozilla plugins and styles. But the new browser is more than just Firefox with a new look. The developers have come up with a number of extensions to accelerate the browser.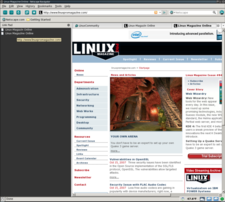 The Link Pad stores temporary links without the user needing to bookmark pages.
The release notes describe the new features and functions in Navigator 9. One of them is the "Link Pad" (see figure) which stores temporary links without the user needing to bookmark a page. Clicking on a temporary link removes the link from the Link Pad. Temporary links are automatically deleted when you close the brower. This function aims to improve visibility in the favorites menu. The URL correction function attempts to correct incorrect entries. Typos such as ".cmo" instead of ".com" are changed to reflect the correct spelling. In our initial tests, we discovered that this function is not entirely reliable; in a few cases the browser failed to identify the typos, and in some cases the suggestions were wrong. A third difference to Firefox is the integrated mini-browser (see figure). The mini-browser is integrated in the sidebar and displays a second website simultaneously with the display in the main window. Navigator removes barriers for users faced with input boxes too small to type in. Users can now click on the frame to scale the frame as needed. Navigator adds a feature to Firefox's highly accoladed tabbed browsing feature. When a user opens a link in a new tab, the tab inherits the history of the window pointing to the tab.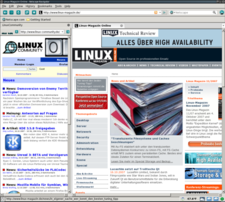 The mini-browser in the sidebar displays a second website parallel to the main window.
Netscape Navigator 9 is available as a download for Linux, OSX and Windows.
comments powered by

Disqus

Issue 266/2023
Buy this issue as a PDF
Digital Issue: Price $12.99

(incl. VAT)