Datamancer offers sturdiness with a Steampunk aesthetic
Hands-On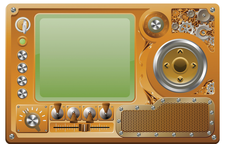 Hand-crafted keyboards, computers, and accessories from the imagination of a retro-Victorian artist.
If your home or office is decorated in rich hardwoods, why not have matching computer hardware, rather than futuristic black plastic? – Richard R. Nagy
Richard R. Nagy of Datamancer Enterprises [1] has spent the past few years answering his own question with a line of hand-made keyboards and other computer hardware, much of it with a Victorian-retro or Steampunk aesthetic. His explorations have given him a small but enthusiastic cult following among artists, gamers, and developers.
All photos, unless otherwise noted, are courtesy of Datamancer Enterprises and Richard Nagy.
Nagy has no formal art training. However, he says, "I've always enjoyed drawing, and when I was young I read a lot of fantasy novels and read comic books, copying the art styles of the comic book artists I admired like Todd McFarlane and Jim Lee." At the same time, "I was also very mechanically inclined, and used to disassemble all of my toys and build new ones from the parts, much to the dismay of my mother. I would design custom toys using simple circuits with batteries, switches, motors, and LEDs."
This combination led him to classic science fiction by Isaac Asimov, Phillip K. Dick, and Robert A. Heinlein. What really captured his imagination, however, was the cyberpunk genre [2] of William Gibson, Bruce Sterling, and Neal Stephenson, as well as classic anime like Akira and Ghost in the Shell, with their presentation of grimy, high-tech dystopias.
"I loved the way technology was sort of fetishized in Cyberpunk fiction," Nagy says, "and how it filtered down to and was repurposed by the common citizen into a hodge-podge of high and low tech." This interest is reflected in his Machinist keyboard, whose scratches and scars look as though it has been sitting in a metal shop for 20 years.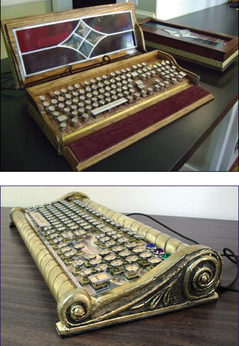 An art project involving "a series of computer casemods which illustrated a false past of computing, and pretended that PCs were first invented in the early 1900s" [3] led Nagy to be identified with Steampunk, the science fiction genre and subculture that imagines what modern technology might be like if it had been invented in the 19th century [4].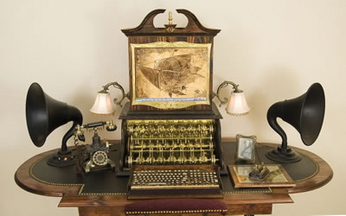 A deliberate play on "Cyberpunk," Steampunk does not imply any connection to the punk rock of the Sex Pistols or the Ramones, "but is more meant to imply that there's a twist to it. This twist is usually in the way the technology is overdone and exaggerated slightly," Nagy explains.
"My own work is kind of on the outskirts of Steampunk, aesthetically, and tends to have a clean, more crafted look in a high Victorian furnishing style, whereas many Steampunk devices revel in the mad scientist's contraption style with lots of exposed piping, gears, and valves."
Just as importantly, Nagy's work covers a broader variety of design eras than Steampunk usually implies. While some of his keyboards, such as the Diviner, are very Victorian, others, like the Alchemist, with its stained glass sides, reach back into the Middle Ages for inspiration. Still others, such as the Aviator, have a distinctly modern style reflected by their aluminum frame and black leather faceplate.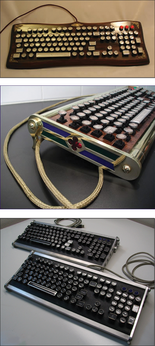 Currently, Nagy is focused on the Art Deco styles of the 1920s and 1930s, which he first experienced through an antique-collecting great aunt and the style of Batman: The Animated Series [5].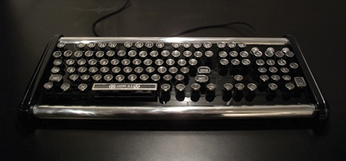 "There's something so dramatic and striking about the black and silver color scheme, the bold lines and chrome strips, and the stylized figural work. I plan to incorporate a lot more of it into my work in the future."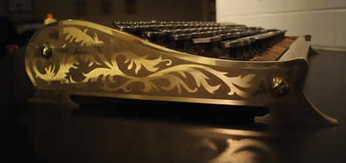 The Aesthetics of the Practical
"I've always been very bored by classic static art work," Nagy confesses. "I look at a framed painting or sculpture on a pedestal and say, "Yes, it's pretty … but what does it do?"
Nagy attributes this attitude to "being raised by hot-rodders and car customization enthusiasts, framing my baseline of an artistic object as something that both looks amazing while performing an important function. I spent most of my youth in an auto body repair shop, doing repairs and full classic car restorations, and I was given a deep respect for the sort of hand-craftsmanship that goes into making these cars beautiful."
He continues, "I was able to see the difference in design philosophies and technological ethics between an older vehicle, which you purchased because it would last you a very long time, and a modern car, which you purchase because it is cheap, knowing you will be discarding it for another in a few years."
This difference also can be seen between the keyboards at the local computer store and the ones built by Nagy. Most keyboards have one membrane making electrical contact with another membrane below it. The result is an inexpensive keyboard – but also one that wears out quickly and is unrepairable. By contrast, each key on a Datamancer keyboard has its own mechanical switch. Although the keys take slightly more pressure to press, they are much sturdier. Just as importantly, if a key stops working, it can be replaced instead of discarding the entire keyboard. For Nagy, this difference in the relationship between users and technology is as much central to his aesthetics as the design.
"I realize the benefits of modularity and planned obsolescence," Nagy says, "But I feel like something was lost along the way. There's an intimacy and a connection with our technology that has been overlooked and sterilized in this age of injection-molded plastic and unserviceable components.
"There's a certain tactile joy one experiences when touching an item that was built by human hands. When you run your fingers over wood grain and imagine someone sanding, staining, and urethaning it, when you run your hands over the typewriter keys on my keyboards and think that someone sat and painstakingly aligned every letter, assembled each key, and crimped each of the 100+ keys together by hand, it gives you a connection to the artist and to that moment in time. This is one of the reasons I personally sign and date each keyboard that we make."
Coming Attractions
Datamancer Enterprises currently sells 20 basic keyboards, varying from US$ 400 to US$ 2,000. Each of the standard models can be customized extensively, and potential clients are encouraged to discuss their own ideas as well, such as Dvorak or ergonomic keyboards, or even keyboard-based Scrabble tiles [6].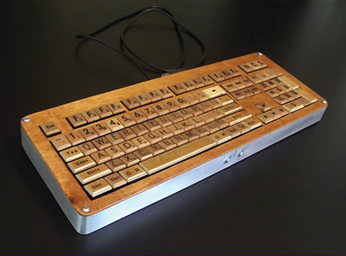 However, as the menu on Datamancer's home page suggests, Nagy plans eventually to offer other computer hardware, much of it based on one-offs done in the past, like the Archbishop computer case and the steampunk laptop.
"Eventually," Nagy says, "we would like to start offering full computer suites with matched and themed PCs, LCDs, mice, keyboards, and speakers all in one package – and perhaps even matching furniture and decor."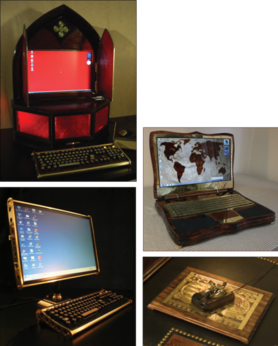 Over the years, Nagy has built cars and motorcycles, custom guns, swords, costumes, and a variety of electronic gadgets. "I try to work in every medium, from metal casting to sewing to coding to graphic arts and website design. I'm a self-described Jackass of All Trades."
Datamancer has grown from a one-person operation on a coffee table in New Jersey to a business employing several people in a small rented space in California. The company is currently vetting potential online and bricks and mortar retail partners. "It has been quite an adventure, and I've had to learn a lot very quickly," Nagy says.
However, for now, computer keyboards remain the core of his work. Asked why they are in such demand, Nagy replies, "Considering that the modern computer is something we interact with almost hourly and is present in almost every home and office, precious little attention has been paid to the cosmetics of these devices. A lot of my clients are authors who claim that my artwork gives them the inspiration to get through the long stretches of typing required in their craft. At the simplest level, they infuse a bit of beauty into the otherwise utilitarian." It's a combination that is likely to serve Datamancer as well in the coming years as it has in the past.
comments powered by

Disqus
---
Support Our Work
Linux Magazine content is made possible with support from readers like you. Please consider contributing when you've found an article to be beneficial.
---