Linux remote administration on Android and iOS
Remote Windows
If command-line access is not enough, and you also need access to Windows systems, individual apps for terminal server protocols such as RDP and VNC offer a wide selection. This desire for more convenience leads to an app with the cumbersome name PocketCloud Remote RDP/VNC [8] by Wyse Technology, which allows RDP and VNC access to Windows, Linux, and Mac systems and is available for both Android and iOS.
The app supports two ways of logging in. The first asks for the IP address or hostname of the target system, the destination port, and any other necessary login information. The second method, automatic mode, requires PocketCloud Companion to be installed on the target system and a Gmail account. This alternative is especially interesting for private systems regularly monitored beyond the corporate network.
The major restriction with the free version is that it only lets you store one connection. Before creating a new connection, the user must delete the existing one. If this is not enough for you, you can purchase the commercial version for about US$ 15; the Pro version has no such limitations and even includes 256-bit NLA/TLS encryption for RDP connections and support for VMware View.
If you often need to open several different RDP sessions, you can use 2X Client RDP/Remote Desktop [9]. It works even with the ancient Android version 1.6 and allows you to create multiple connections. For VNC access only, Mocha VNC Lite provides an alternative for Android and iOS [10]. Unfortunately, it also allows only one server.
NoMachine
Admins who depend on managing their remote systems on Free NX or the proprietary NX by NoMachine are left out in the cold. Currently, not a single client runs on Android or iOS, although a how-to for geeks describes how to run NX in a chroot environment with Ubuntu on Android [11]; however, the benefits of this solution in the daily grind would appear to be minimal.
NoMachine is apparently working on a client for Android and iOS, but it was not available before we went to print, although it is scheduled to debut December 2013, according to the notice on the download page [12]. The website does not indicate whether versions older than V4 of the protocol are supported. The formerly Italian, now Luxembourg-based, manufacturers have taken some time with the recently released fourth edition of the program – many years in fact, much to the dismay of customers. Patience seems called for.
TeamViewer with Remote Touch
The popular proprietary, but free for personal use, desktop sharing software TeamViewer [13] (Figure 6) is available for the most common desktop operating systems – Windows, Mac OS, and Linux – as well as in a client version for Android and iOS. TeamViewer can be used for online presentations or meetings, but is also suitable for remote maintenance tasks. A positive effect to notice here is the Quick Support version that requires no installation and is therefore particularly suitable for spontaneous and uncomplicated support of less technical users.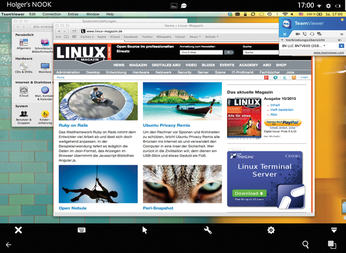 The users only need to download a program and run it. The software then displays a session ID and a password. If need be, users can pass both of these on to the mobile helper on the phone, which then connects to the system and solves the problem. The remote helper then takes over the helm and can even manage the system via gesture control and handle file transfers in both directions.
comments powered by

Disqus
Visit Our Shop
Direct Download
Read full article as PDF: