The Bitwig Studio DAW transforms Linux computers into music workstations
Tunesmith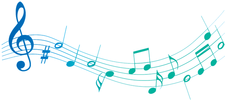 Bitwig Studio is the first complete music workstation offered as a commercial product for Linux. Now, Linux finally offers music production software that has, up to now, only been available on other platforms.
The Berlin-based startup Bitwig [1] announced plans for a new major league digital audio workstation for Linux about two years ago. About a year ago, a beta version of Bitwig Studio for Linux came out for testing, and in March 2014, the company finally released a complete version (Figure 1), having completely eliminated the bugs from the beta.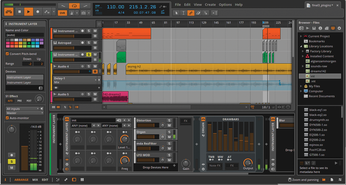 Besides the freely licensed Ardour and its smaller "siblings," such as Qtractor and MusE, musicians also have access to commercial and proprietary music production suites on Linux. Most are geared to the needs of electronic music producers. Renoise and Tracktion are built natively for Linux, whereas Reaper is a Windows program optimized for operation with Wine.
None of the top names in music production software – Steinberg Cubase, Magix Samplitude, Avid's Pro Tools, or Ableton Live – run on Linux. Time and again, musicians have said they would love to use Linux, if they only had access to a digital audio workstation like the suites they are accustomed to working with in Windows or Mac OS. Now they do.
Bitwig Studio presents a perfectly designed, professionally built, complete software suite for musicians. The program provides options that are new on Linux, especially for composition and live performances. Additionally, Bitwig offers a high degree of flexibility that other commercial programs can rarely live up to.
The manufacturer supplies the program as a 64-bit DEB package [2], making it easy to install on any Debian derivative. Bitwig expressly states "Ubuntu 12.04 or later" as a system requirement, but people have already reported successful installations on Debian, Arch Linux, Fedora, and other distributions. The prerequisite is a 64-bit system; Bitwig Studio does not run on a 32-bit kernel.
Licensing
In our lab, the suite installed smoothly on Kubuntu 13.04; on startup, it prompted me for a username and password, which you need to create when you register on Bitwig.com. The registered account is also used to manage licenses – Bitwig fortunately does not bother its users with USB dongles and the like.
For use without an Internet connection, a key file can be downloaded from the user section of the website. With a standard license, you can use Bitwig Studio on up to three computers at the same time, and you can download packages for all supported operating systems from the user section. For your first tests, you can also retrieve a free demo package [2]; however, you cannot save your work in it.
After completing the registration ceremony, you need to confirm a EULA, and then things get interesting: Bitwig offers downloads of several collections of samples and MIDI templates, which you can use as the basis for your projects and to explore the program's capabilities. Most of them come from Bitwig itself, with others from third parties. The latter are, however, usually only reduced versions of larger packages that you can purchase elsewhere.
The downloads are stored in ~/.BitwigStudio. Additionally, Bitwig sets up a ~/Bitwig Studio directory, where it saves your settings and projects.
Made for Linux
After the relatively long startup process, Bitwig feels like a native Linux program. Unlike some other cross-platform programs, I had no problems with window management, virtual desktops, or other Linux-specific functions. That may well be because Bitwig has its own Java runtime onboard, which provides the suite's Java interface.
All interface elements respond without delay. The actual signal processing – you can easily see that it has been carefully optimized for Linux – does not run as Java bytecode, but as a classic binary.
For audio interfaces, you can choose from Alsa, Jack, and the anachronistic OSS. For all the tests in this article, I used Jack, which has established itself as a standard for audio on Linux (also see the "Jack in the Box" boxout at the end of this article). After changing to the interface of your choice, you can immediately choose the ports offered by the selected interfaces as inputs/outputs. However, the changed settings only take effect after restarting Bitwig.
Very shortly after the release of version 1.0, the selection of audio interface did not work correctly: As in the beta, PortAudio threw an ugly error message. Just two days later, the problem disappeared, without any trace of a Bitwig upgrade. Bitwig shows available updates at the start; the download can be started automatically, then you install the appropriate package with dpkg or a tool like GDebi. After installation, you then need to click your way through the well-known first-launch wizard, which worked fine for all seven updates presented during the trial period.
Version 1.0.7, which ran for most of the test, exhibited virtually no problems with the existing functions. Every module and every feature I tried worked with constructive results. At second glance, however, a few shortcomings were identified: For example, the sound file preview in the browser did not always work; Bitwig only listed VST modules in the file area of the browser, but not in the intended device list. Some problems in detecting MIDI devices connected via USB were the only problems that really restricted functionality.
Attempts to force Bitwig to output noise, or even crash, through adventurous experiments with complex, demanding actions, were fended off perfectly (Figure 2). With 28 audio channels plus 10 MIDI tracks – each with its own sound generator – a couple of Xruns (buffer under- or overruns) occurred on the Alsa back end. However, they had no audible effect, and they only appeared when all channels needed to output a signal at the same time. Jack was adjusted to keep maximum latency to below 8 milliseconds, which is quite an ambitious value for a commercial laptop.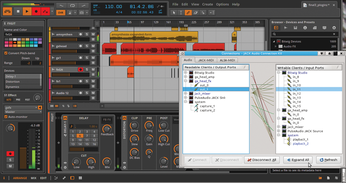 Compact Versatility
Bitwig Studio is a complex program with many features, which inevitably leads to a complex interface, but one that can remain comprehensible with some careful planning. The concept that Bitwig designers adhere to relies on a combination of relatively simple menus without submenus, plus the interface responses to user commands that automatically reconfigure the program window.
Bitwig thus mutates into a "new" program, depending on the function invoked by the user, that in itself is as clear-cut as possible. With the exception of a few configuration modules, all this happens in the four sections of the main window; only standalone plugin interfaces are allowed to open their own windows (see the "Hidden Tricks" box).
The toggles for the main modes – Arrange, Mix, and Edit – are at the bottom left. These modes consist of combinations of panels. To the right, you can select individual panels for the main toolbox (bottom center). The vertical box on the left displays information and tools for both work areas in the center and automatically follows the currently enabled program elements, such as tracks in the Arranger or sound clips in the Editor box.
This concept turns out to be quite clever: Almost all the compilations tried in our lab appeared understandable and were easily controllable. However, as with all automatic functions, I was sometimes left wishing I could do some things manually.
The View menu, top center, provides some simple switches for this purpose that let you display or hide panel boxes as required. In this menu, you can also select panels that do not appear in the automatic compilations. If you use more than one display, you will also find switches that enable optimized Bitwig setups for multimonitor mode.
The tracks in the Arranger can only be set to "small" or "very small." For precise editing, therefore, it makes sense to switch to Clip Editing mode. When you double-click the box-like icon at the bottom, it transfers a clip to the Arranger and automatically adjusts to its format: MIDI clips open in a piano roll editor and sounds in a wave editor.
Top left in these tools are some small switches that let you enhance the simple standard editors. For example, you can edit material in a Layer view that displays all the tracks in a stack, as in the Arranger, or directly superimposed. In the classic Track mode, you can enlarge tracks as needed, so that you can inspect and edit notes and sound graphs in detail.
The foil-like Layer view lets you stretch or compress audio material to match quantized MIDI notes precisely in another track (Figure 3). The quality of Bitwig's tools for stretching and compressing audio material proves to be excellent. Everything works in real time and instantly appears in the graph, and you will not notice a change in the sound except with extreme settings.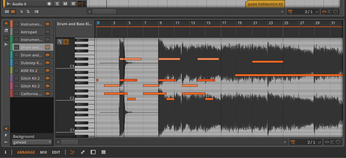 Closely connected with the Arranger and Editor are various automation functions. A comprehensive presentation of all the possibilities is well beyond the scope of this article; however, all the parameters of the controllers and plugins associated with a track can be controlled remotely with lines that you draw by hand or by moving the sliders. You can apply curve features to the lines, if needed; automation can be bound both to the timeline in the project as well as to a clip. (See also the "Macros" box at the end of the article.)
Bitwig Studio internally uses a proprietory data format for notes and control commands, which it sends to sound generators and effects. In contrast to traditional MIDI, this format supports precise settings and the transmission of control signals to individual notes in a clip. For example, you can use a line within a chord to manipulate a single tone and change its pitch.
comments powered by

Disqus
---
Support Our Work
Linux Magazine content is made possible with support from readers like you. Please consider contributing when you've found an article to be beneficial.
---