Support for the Librem 5 Phone
CommunicationsTools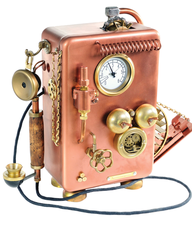 Ahead of the Librem 5 phone release, Purism releases a suite of communications applications called Librem One, including Chat, Mail, and more. But how accessible are these apps for average users?
With the release of the Librem 5 phone approaching, Purism has presented a foretaste of how it will be supported. Purism has released the first version of a suite of communications services called Librem One, consisting of Chat, Social, Tunnel, and Mail applications designed for privacy and encryption [1]. Although Purism has yet to reveal its plans for an app site to match Google Play or the Apple App Store, Librem One by itself is likely to be a key factor in the success of the Librem 5 or future mobile devices. Without such software support, the Librem 5's chances to survive in a saturated market would probably be slim – as the BQ Aquaris M10 tablet loaded with Ubuntu Touch proved several years ago. However, in its first release, Librem One manages to be only partially successful.
You may have already seen the promotional campaign for the Librem One services [2] (Figure 1). If so, ignore it. The campaign includes an ad featuring the voice of Linux podcaster Bryan Lunduke and the slogan, "We don't look at your junk." While the campaign must have seemed to someone a clever way to explain to unsophisticated users the importance of security and privacy, a charitable description of the ad would be that it is heavy-handed and full of repetitive adolescent innuendo. It badly misses the audience of early adopters, and feels badly out of sync with Librem One – not least because it suggests that the services are more user-friendly than they really are.
Instead, better to look at the Librem One campaign and roadmap directly. Users can sign up for a free account for Chat and Social, or pay $7.99 a month for a single account or a five member family pack for $14.99 a month for complete services that include Mail. Other services will be added as registration for the services rises: starting with Librem Files, and continuing with Backup, Contacts, Pay, and Dial. Given that the addition of Files kicks in at 50,000 backers – 10 times the number as I write, a quarter of the way through the crowdfunding campaign – these additional services may not be delivered for a while. Ultimately, though, the intention is to provide secure and decentralized replacements for everything from Facebook to Gmail and PayPal. The policy behind the Librem One services is terse, and to the point:
[...]
Use Express-Checkout link below to read the full article (PDF).
comments powered by

Disqus
Visit Our Shop
Direct Download
Read full article as PDF: