An ASCII puzzle for an escape room challenge
Jail Break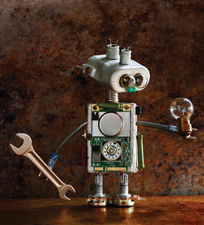 A digital puzzle presents a challenge for young people in an escape room.
A teacher recently asked me to help create a couple of puzzles for an escape room she was designing for her classes. Escape rooms have a number of interpretations, themes, and implementations but ultimately comprise a series of puzzles designed around a theme. Solving one puzzle provides a clue to something else. Sometimes a puzzle is just an off-the-shelf combination lock, and as you play other parts of the game, you'll discover the combination (or three numbers that you can try as the combination).
One puzzle I designed starts with a number on a seven-segment display (see the "Seven-Segment Display" box), a bundle of leads clipped onto two rows of electrical connections, and an unfinished set of notes. A previous adventurer has started to decode the puzzle and left notes for whoever might follow. The top set of connections is numbered 128, 64, 32, 16 , 8, 4, 2, and 1. The bottom set of connections isn't labeled, but each post has an associated LED, only a few of which are lit.
Theory of Operation
Built into the code of the display box, the secret word to be revealed is part of an Arduino program. The number displayed is the ASCII representation of the character currently being sought. Players must use clip leads to connect the numbers on the top to the active (lit) connections on the bottom so that the connected posts add up to the displayed number. A "check" post is tapped with an extra clip lead, and the display will either say CORRECT or NO.
[...]
Use Express-Checkout link below to read the full article (PDF).
comments powered by

Disqus
Visit Our Shop
Direct Download
Read full article as PDF: