Turning old hardware into network storage
NAS for the Masses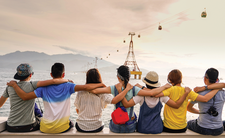 EasyNAS lets you set up network-attached storage in next to no time – even on old hardware.
Do you have an old computer gathering dust? Thanks to Linux's flexibility and the innovative spirit of programmers, even computers that are more than 10 years old can still be used as network storage in current IT infrastructures.
Systems frequently used by power users in the past often offer plenty of space for mass storage. In addition, these systems usually have sufficient power supplies to run multiple hard disks as network-attached storage (NAS). EasyNAS, an openSUSE derivative, takes the pain out of configuring network storage with multiple storage media and integrating it into an existing LAN [1].
Requirements
EasyNAS comes as a hybrid ISO image with a size of about 380MB. As the minimum system requirements, the developers recommend a processor with at least 500MHz clock speed – as you may recall, this was state of the art more than 15 years ago.
A word of caution: Contrary to the original, not-yet-updated information about the hardware requirements, the current version, EasyNAS 1.0.0, requires a 64-bit processor. However, the older version 0.7.2 images available on SourceForge can also be used with 32-bit CPUs [2].
As a further requirement, the computer should have at least 1GB RAM, but 2GB or more is preferable for the system to run smoothly. The hard disk needs a capacity of at least 20GB.
The EasyNAS project does not state any further system requirements, but you will require a wired network connection for obvious reasons. EasyNAS lacks the ability to integrate with a network via WiFi. On a positive note, however, the system supports various transfer protocols. Network File System (NFS) can be used in Linux-only environments, while SMB or Samba is recommended for mixed environments.
Note that EasyNAS requires a dedicated storage area for itself. This is usually the first internal hard disk, which cannot be used for storage purposes as part of a network drive, either. Therefore, you need at least two physical mass storage devices to use the NAS system – or perhaps more depending on the desired RAID level.
Commissioning
On booting, the system first opens a GRUB screen where you can choose between installing EasyNAS or booting from the internal hard disk. The system does not support live operation.
To install EasyNAS on a mass storage device, the openSUSE derivative boots into an ncurses-based wizard. In the wizard, first select the disk on which you want to install the operating system. The installer then deletes all data on the disk, after giving you a fair warning, and does a disk check. Finally, the actual system installation takes place. The wizard then branches to a menu on the text console where you can access various administrative tasks by typing the listed numbers.
EasyNAS also enables a web server during the install, which means you complete the configuration using any web browser. To do this, call up the system's IP address in the browser, followed by a colon and the port number 1443 (e.g., 192.168.0.10:1443). This will take you to a login screen where – if you keep the administrator's credentials – you need to enter admin as the username and password at the prompt.
EasyNAS then opens a visually appealing and clearly arranged dashboard with icons that visualize the NAS system's technical configuration (Figure 1).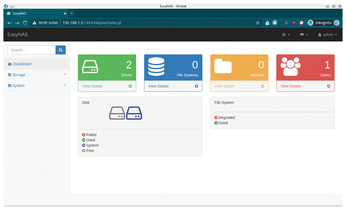 Dashboard
Clicking on Drives in the dashboard lets you manage the mass storage devices that physically exist on the system. Drives also takes into account removable media, such as USB memory sticks, but not optical drives. Existing mass storage devices are displayed as symbols. Note that the EasyNAS system drive always appears in blue, and network drives are shown in green.
Next to Drives, File Systems summarizes the existing filesystems used for the NAS. To the right, Volumes contains logical drives, and Users displays the users logged into the system on the far right. To find out more information for each group, click on View Details.
After the install, File Systems and Volumes will be empty because you need to configure them first. Also, Users only contains the administrator.
On the left side of the dashboard, in the vertical sidebar, you will find Storage and System, which you will use to configure your new EasyNAS.
comments powered by

Disqus
---
Support Our Work
Linux Magazine content is made possible with support from readers like you. Please consider contributing when you've found an article to be beneficial.
---