Read Later Mozilla Add-on
Apr 20, 2010
Matt Brubeck, newcomer to the Mozilla Fennec Fox team, has released his Read Later extension for mobile browsers that provides offline webpage reading.
The Read Later add-on allows users to save webpages in a list for further offline reading. The Fennec extension not only stores addresses but also a local copy of the page to allow users to read it later without Internet access.
Seattleite Brubeck apparently wrote Read Later to teach himself XUL and write Fennec extensions. For it he used code from the Readability bookmarklet (discontinued but cloned) that reduces clutter in mobile device browsers.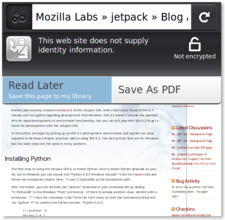 The Read Later 1.1.1 extension is available on Mozilla's Add-ons page, albeit only the Fennec 1.1 developer build is available. The code is under Apache 2.0 licensing.
Comments
Read Later Mozilla Add-on

Matt Brubeck, newcomer to the Mozilla Fennec Fox team, has released his Read Later extension for mobile browsers that provides offline webpage reading. For those who feel that the concept of this story is quite interesting, the probability is you are thinking about using Linux as your number one or simply a substitute Operating system when you find yourself simply sick and tired of your old OS. Unfortunately the majority feel that Linux is too difficult that it is attractive only to geeks, Linux-magazine.com might demonstrate that this awesome operating-system is essentially for all people. It is regularly entertaining to find out about Read Later Mozilla Add-on.

Dallas Grambo,
http://www.tonerscartridges...ta/compatible/960870-black.php
comments powered by

Disqus

Issue 272/2023
Buy this issue as a PDF
Digital Issue: Price $12.99

(incl. VAT)